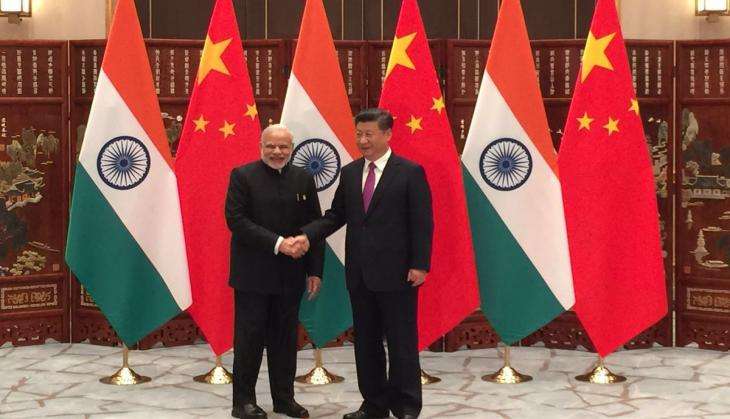 Prime Minister Narendra Modi, on 4 September, held bilateral talks with Chinese President Xi Jinping, ahead of the G20 Summit. The G20 Summit is scheduled to take place on 4-5 September in Hangzhou City of China.
"First engagement in Hangzhou is a meeting with the host. PM @narendramodi meets President Xi Jinping," Ministry of External Affairs official spokesperson Vikas Swarup tweeted.
This is first meeting between Prime Minister Modi and President Jinping after their meeting on the sidelines of the Shanghai Cooperation Organisation (SCO) summit held in Uzbekistan capital Tashkent in 23 June.
During the talks, Prime Minister Modi highlighted the menace of terrorism, saying the recent attacks show how it is spreading across the World and is, therefore, a matter of grave concern.
He also condemned the terrorist bomb attack at China's embassy in Kyrgyzstan's capital Bishkek.
The meeting is a significant one as it follows after China stalled India's membership of the Nuclear Suppliers Group (NSG) and bilateral differences over the proposed USD 46 billion China-Pakistan Economic Corridor which runs through Pakistan occupied Kashmir, Beijing blocking the UN move to ban Masood Azhar, chief of the Pakistan-based terror group Jaish-e-Mohammad (JeM).
Beijing has raised concerns over the close ties of India with the US and the recently signed Logistics Exchange Memorandum of Agreement (LEMOA), which will enable the militaries of both the democracies access to each other's facilities for supplies and repairs.
However, Chinese Foreign Minister Wang Yi's visit to India last month indicated that it would be ready to revisit the question of India's membership to the NSG.
--ANI