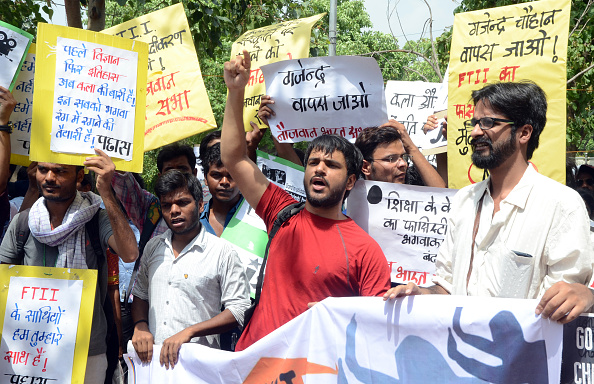 The FTII administration in Pune has sought police "protection" for the campus following an incident in which a symbolic protest installation put up by the agitating students was vandalised outside the main gate.
Prashant Pathrabe, the newly appointed director of Film and Television Institute of India said on that the symbolic formation of a big "question mark" installed by the students in front of the gate was found vandalised on the night of 19 July. He informed media that the police authorities have agreed to provide protection when required. No police complaint has been filed about the incident.
FTII has been hit by a strike by students demanding removal of TV actor Gajendra Chauhan as chairman. Academic activity at the premier institution after the strike which commenced on 12 June. The other demand of the students include the reconstitution of the FTII society.
Pathrabe, currently director of Press Information Bureau, Pune division, took additional charge as director of FTII last week after expiry of the term of his predecessor D J Narain.
Asked about his initiative to end the deadlock at the premiere institute Pathrabe said, "I have advised the students to be flexible on their main demand to facilitate a possible dialogue with the Information and Broadcasting Ministry. Withdrawal of the strike will help in this process."
Source: PTI