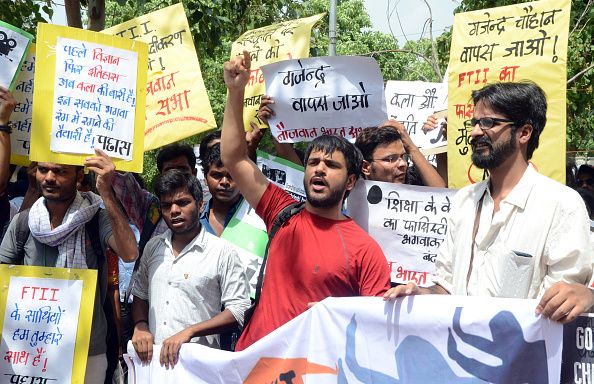 The tussle between the FTII management and the students doesn't seem to be ending, as 30 students,who are through with their course, have been asked to vacate their rooms. The agitation seeking removal of the chairman has entered its 58th day.
FTII Director Prashant Pathrabe told reporters that he has also taken "administrative decision" to discontinue services of 82 contract employees, targeting mainly those who have been giving technical support to academic film projects, since classes are not being held at the campus.
"Since classes are not being held due to the strike, there is no justification to keep contract staff engaged", he said.
Mounting agitation
Meanwhile the students are escalating their protests by garnering support from other institutions. In Delhi, some students from the Film and Television Institute of India (FTII), told reporters that they were in touch with students of Delhi University, JNU, Jamia, Pondicherry University, National Institute of Design (NID) and IIMs to get their support to scale up their protests.
The students said they had done no wrong by raising questions and blamed the government for not acting responsibly. An atmosphere of intimidation and hostility has been created, they alleged.
Outrage against political appointments
The protests were not only over appointment of Gajendra Chauhan as chairman but also four other newly appointed FTII council members who did not have the stature but were there because of political affiliations. One of the members they claimed had headed a unit of BJP's student wing ABVP in Pune.
The 30 students, who were directed to vacate their hostel rooms, include 13 students who were served notices by the FTII management for overstaying.
Pathrabe said that as many as 50 students of the 2008 batch students are yet to complete their film project.
"It has now been decided to do an as-is-where-is basis assessment of their projects by the faculty," he said, adding that he had consulted the FTII Dean in this regard.
Meanwhile, students' representative Ranjit Nair alleged that administrative measures announced by the FTII director today are an attempt to "handicap" and exert pressure on students to withdraw their strike, by threatening their careers.
The FTII Students' Association has also objected to the presence of plainclothes policemen on the campus though their strike is peaceful, without any vandalism.
The students have been on strike boycotting classes since June 12, demanding Chauhan removal, saying that he lacks "academic credentials, vision and stature" to head the premier institute.
While the students have been able to garner support from many Bollywood bigwigs in support of their demands, the ministry has stubbornly stuck to Chauhan's appointment, asking them to return to academic activity or face action including rustication.