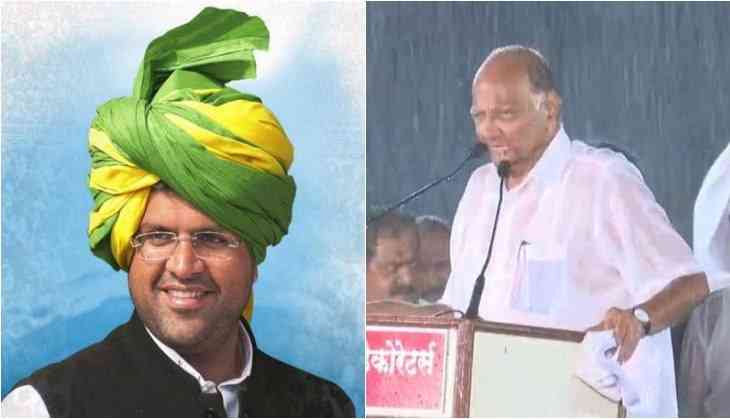 Dushyant Chautala and Sharad Pawar
NCP chief Sharad Pawar is 78 years old but doesn't shy away from addressing a rally in heavy rainfall as witnessed in Satara during recently concluded Maharashtra Assembly Elections. He remained the face and force of NCP campaigning that spoilt the calculations of BJP and Shiv Sena and managed to enthuse the NCP workers with a spectacular performance in the elections.
In Haryana, in less than one year of its formation, Jannayak Janta Party (JJP) lead by Dushyant Chautala, 31 years, became a key force that pushed back BJP in a defensive position. No wonder, BJP was fast to react to the changing circumstances and formed a coalition government in Haryana with JJP, and extended Deputy Chief Minister's post to Dushyant Chautala.
Never say die spirit
Sharad Pawar has been facing inquiry in alleged Rs 25000-crore scam in Maharashtra State Cooperative Bank. His relations with nephew Ajit Pawar are reportedly strained and the party is fighting internal bickering. But Sharad Pawar refused to give up and extensively covered Maharashtra during the campaigning. His efforts, connect with the masses and ability to raise concerns and issues of people managed to win emphatic support for him.
Hurricane in Haryana
Similarly, Dushyant Chautala has been battling with difficult circumstances—expelled from INLD last year, father in jail—but he kept reaching out to people, addressing and raising the problems faced by the people of Haryana. Dushyant didn't confine himself of being the leader of Jats only, he embraced all living in Haryana. Some of his supporters call him "the first gentleman Chautala", as he represents the real youth of India--aspiring, English speaking, intelligent and never giving up.
Crossing the age barrier
The assembly elections of Maharashtra and Haryana have revealed one important fact—If you work for the people with sincerity, voters will support you. Age is no bar for committed leaders.
Also Read: Dushyant Chautala hits back at Shiv Sena over remarks on his father