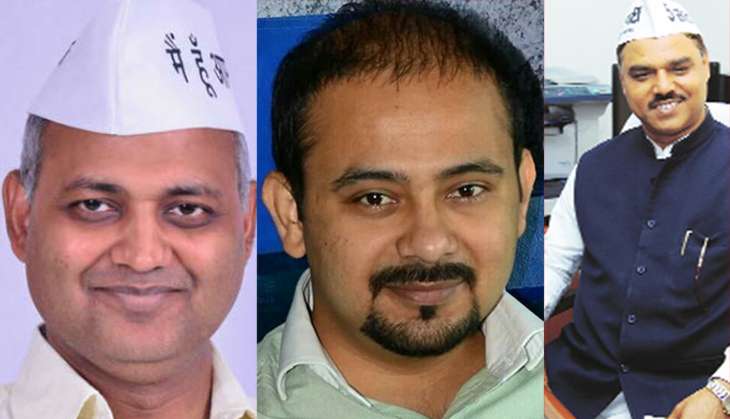 Prakash Jarwal, Aam Aam Party (AAP) MLA from Deoli was arrested today on charges of misbehaving with a woman. An FIR has been lodged against him at the Greater Kailash Police Station under sections 354, 506, 509 and 34 of the IPC for misbehaving with a woman.
This is not the first time Jarwal has courted trouble. In May 2014, he was arrested for allegedly thrashing a junior engineer of Delhi Jal Board.
Recent criminal cases against AAP leaders largely related to Punjab politics
This comes on the heels of AAP leader Ashish Khetan being booked for hurting religious sentiments in Punjab and the arrest of Delhi Chief Minister Arvind Kejriwal's principal secretary Rajendra Kumar on corruption charges.
Earlier, AAP MLA Naresh Yadav was named in an FIR related to a recent case of alleged 'desecration' of the Quran.
The AAP has been claiming that the string of attacks against them is the work of the Bharatiya Janata Party (BJP), as they fear losing the upcoming Punjab Assembly polls.
However, its just not the recent spate of arrests.
A little less than a dozen AAP leaders have been arrested since 2014. The charges range from rioting to obstruction of traffic and slapping a senior citizen. Here's a lowdown on all the arrests that AAP leaders have faced till date:
1.Dilip Pandey, 18 July, 2014: AAP leader Dilip Pandey and two other party members were arrested on the charge of promoting enmity between different communities. They were booked under section 153 A (promoting enmity between different groups on grounds of religion) and 295A (deliberate and malicious acts, intended to outrage religious feelings of any class by insulting its religion or religious beliefs) of the Indian Penal Code.
This was one of the first arrests in the AAP government's 49-day rule.
Reason: Pandey and other party members were arrested on allegations of pasting posters in Jamia Nagar area of south Delhi asking Muslims to "gherao" the house of three Congress legislators of the same community for "shaking hands with RSS and the BJP". However, AAP claimed that the posters were pasted by a local and not party leaders.
Interestingly, Amanatullah who has confessed that he put up posters, is not being arrested. Police is arresting only AAP people.

— Arvind Kejriwal (@ArvindKejriwal) July 18, 2014
2. Jitender Tomar, 9 June, 2015: The then law minister was arrested over allegations of submitting a fake law degree in his affidavit filed before the Election Commission while contesting the Delhi Assembly elections. Tomar was charged under various sections of the IPC, including 420 (cheating). He spent a month-and-a-half in jail following his arrest and is now out on bail.

3. Manoj Kumar, July, 2015: This AAP MLA was arrested in a case of alleged cheating and land-grabbing. The Delhi Police's case against the Kondli MLA was that he had used used forged documents to sell a plot of land that did not belong to him. In his defence, Kumar said the Delhi Police had pulled out an old FIR to make what he called a "vindictive arrest".

4. Commando Surender Singh, August, 2015: AAP legislator Commando Surender Singh was arrested by the Delhi Police on the evening of 21 August for allegedly assaulting a New Delhi Municipal Council employee. He had also allegedly made casteist remarks against the government employee.

5. Somnath Bharti, September, 2015: This was a period of high drama which saw the ever-jinxed Law Ministry getting into another controversy due to Somnath Bharti. His wife accused him of domestic violence. After a long drawn drama of him playing hide and seek with the law, he eventually surrendered before the Delhi Police.

A day later, he was arrested under various sections of the IPC including 307 (attempt to murder), 420 (cheating and dishonesty), 406 (punishment for criminal breach of trust), 417 (punishment for cheating), 313 (causing miscarriage without woman's consent), 324 (voluntarily causing hurt), 498a (husband of a woman subjecting her to cruelty), 506 (punishment for criminal intimidation.

6. Akhilesh Tripathi, November, 2015: The Model Town MLA was arrested following the Delhi Police acting on a 2013 complaint against him. The MLA was charged with rioting and criminal intimidation by the Delhi Police on a complaint of a Bittu Jha.

7. Mahendra Yadav, January, 2016: The new year began with another arrest of its lawmaker for the Aam Aadmi Party.

West Delhi's Vikaspuri Aam Aadmi Party (AAP) legislator Yadav had himself arrested for blocking traffic on the main Nihal Vihar-Najafgarh road while protesting the rape of a 3-year-old. The Delhi police accused him and his supporters of rioting, damaging public property and stopping public servants from performing their duties.

8. Jagdeep Singh, May, 2016: The Hari Nagar MLA was arrested for allegedly beating up and threatening the manager of a waste management company hired on a contract basis by the area's civic body, reported The Indian Express.

9. Dinesh Mohaniya, June, 2016: The Sangam Vihar MLA was recently arrested under Sections 323 (punishment for voluntarily causing hurt) and 341(punishment for wrongful restraint) and 34 (act done by several persons) of the Indian Penal Code (IPC) at the Govindpuri Police Station.

Mohaniya was arrested by the Delhi Police for allegedly misbehaving with a woman and slapping a 60-year-old man. The slapping incident took place in the Tughlakabad locality of the city where Mohaniya had gone for a visit. He apparently slapped the senior citizen for not recognising him. With inputs from PTI and ANI