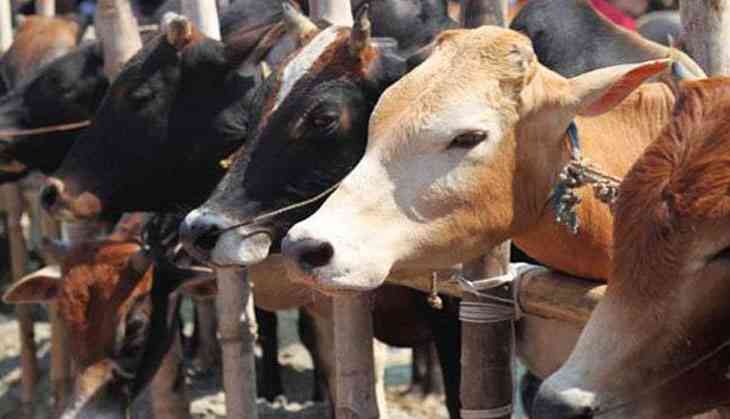 A youth brigade in Dhanbad has set up a unique 'Vegetable Peel Bank' for feeding stray cows that roam the interstate Grand Trunk road, on the border of West Bengal.
The bovines, rescued from the clutches of cattle smugglers by the police, are usually left to fend on their own as shelter houses in the area lack space and provision for food, a district official said.
The activists of Marwari Youth Brigade here have recently taken up a one-of-a kind initiative of feeding the starving cows on the roads and the gaushalas (shelters) in the region, he said.
Around 125 to 150 cows are rescued along the interstate border every month, he added.
The members of the brigade collect vegetable peels and unused food in the morning from the apartments and houses in the coal belt to cater to the fodder requirement of the stray bovines.
"The activists have put up two buckets - one for dried items and another for wet food - on each floor of selected apartment complexes in the city. They collect the waste in the morning and send it to gaushalas through auto carriers," Krishna Agrawal convener of the 'Vegetable Peel Bank' said.
The project is a brain child of Shekhar Sharma, a businessman, who got in touch with 48 apartments of a residential complex in the city three months ago for the peel bank.
"These cows had been surviving on polythene bags and drainage water. Now they get green waste as food every morning. The brigade has also set up water tub in different locations of the region," Sharma said.
Over the past three months, half-a-dozen residential complexes have agreed to join the cause, he said.
The brigade plans to rope in three major posh residential complexes in Bankmor area of the town in the next few months.
"The credit for the success of the project goes to all animal lovers in the region, who willingly donated containers and contributed in many other ways," Sharma said.
The cost of transporting the green waste to the gaushalas across the district is usually borne by the members of the brigade.
"With no major funding, the project may encounter problems in the times to come," Sharma said, adding that he is hopeful that the people in the area will donate for the cause.
Lauding the initiative, Dhanbad mayor Chandrashekhar Agrawal said the administration is willing to help the cause if the brigade members approach it.
"It is unique and noble initiative for stray cattle.
The municipal corporation is ready to extend support to the project, in whatever way possible," he added.
(PTI)