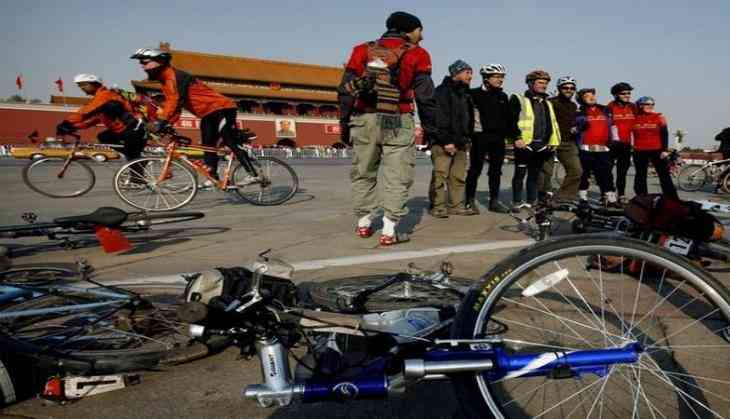 In a bid to cement mutual bonhomie, a joint cycling expedition of Indian Army and Bangladesh Army, first of its type, was recently flagged off from the Agartala military station.
Lieutenant General A. S. Bedi, GOC Gajraj Corps, while flagging off the expedition said, "India and Bangladesh share a very close linkage as far as history, culture and geography are concern. Both the armies have been interacting with each other at various platforms at the senior level, senior level and training field."
"This is one of the noble initiatives taken by the Indian and Bangladesh army and shall revive all the old memories of the war of liberation of 1971 as well as learning from the best practices at the junior and younger level between both the armies. This is the first of its kind and I am sure that it is the stepping stone for many such activities in future which both the armies will undertake," he added.
The expedition teams comprising of 19 soldiers each including officers, JCOs and OR will cover approx 532 km in 11 days.
Meantime, Major Sajjad, the Bangladesh cyclist team leader said, "The Indian and Bangladesh army has a very old relation that started during the Bangladesh liberation war, to further strengthen the relation to a new height this is the first joint expedition. The spirit of this expedition is our liberation war of 1971 where the Indian army had its active participation. Through this expedition we are going to smell and touch the great works done by our predecessors during the liberation war."
"Besides the training events both the armies have its participations in games and sports as well. I hope that this will further strengthen our relation between the two armies and the bilateral relation between the two nations," he added.
Indian and Bangladesh Army conduct joint military exercise annually, the introduction of joint adventure activities will result in increased mutual understanding and cooperation at troops level.
The expedition commencing from Tripura's capital Agartala and will traverse through major cities of Bangladesh via Comilla, Dhaka, Jessore and culminate at Kolkata on April 1.
During the expedition the team will also visit historical battle sites of the glorious liberation war of Bangladesh in 1971.
A colourful cultural programme and dare devil show was also organised on the occasion to show the strong and cosmopolitan composition of the army.
On the Indian side the expedition is being conducted under the aegis of HQ Eastern Command.
Apart from increased bonhomie, the expedition will also create awareness about the unique heritage, culture and traditions of both countries amongst the participants.
--ANI