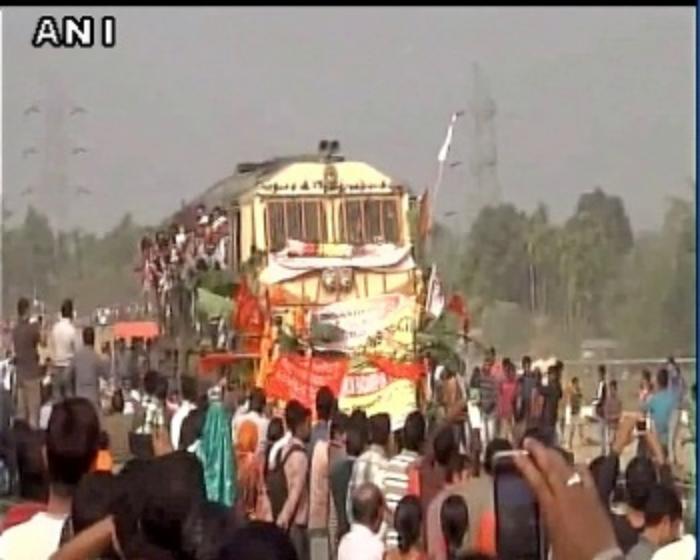 The 69-year-old dream of people of the landlocked state, Tripura, came true on 29 December when the first broad gauge engine arrived at Dharmanagar Railway Station.
Thousands were seen waiting for long hours, right from the morning to welcome the BG engine along with the NFR team.
"It is the first time that broad gauge engine has arrived here today at around 2.30 pm and I, along with others, arrived here at around 10 am. Many people of Dharmanagar have arrived to express their joy. They welcomed the train along with the driver. We hope a passenger train will start services soon," said S K Paul, a local who has been waiting for several hours along with his family to witness the event.
It took around 97 days to take a BG railhead to Tripura, which is also a record, according to NFR sources.
On 20 September, the state bid adieu to meter gauge rail engine to pave the way for the BG conversion work.
S Das, Station Manager of Dharmanagar rail station said, "Actually our dream has come true and the project has crossed its first step. The first BG engine rolling has completed on time, up to Dharmanagar from Badarpur and it will continue up to Agartala on this phase. Later, it will go up to Agartala and the rolling will be completed."
After running the BG railhead, the NFR is scheduled to bring ballast train to Agartala passing through all stations by first week of next month.
If the ballast train journey appears okay, then the NFR will conduct CRS inspection on the newly built BG rail track for safety clearance followed by the final run of the BG passenger train by after March 31 next.
-ANI