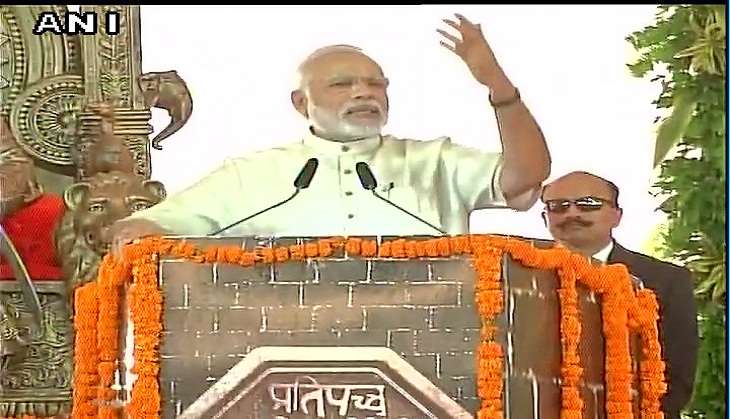 Prime Minister Narendra Modi on Saturday asserted that the fight against corruption would continue until the BJP-led government wins it.
"This fight will continue until we win it. Our battle to fight corruption has been going on since the day we assumed office. During this, we took some historic decisions, but on November 8 we launched one of the strongest attacks against black money hoarders," Prime Minister Modi said after laying the foundation of the Shivaji Memorial in Mumbai.
Taking a dig at his detractors who vehemently opposed the demonetisation move, Prime Minister Modi said despite the opposition's best efforts to mislead and create a sense of panic, the people continued to repose their faith in the government.
Calling the demonetisation decision as a "bugle" against black money hoarders, Prime Minister Modi said, "There were various attempts to mislead and scare them, the air around was rife with speculations there were attempts to mislead the uneducated ones as well, but they did not get swayed by this and showed immense support on my government."
He said the recently held municipality elections, where the BJP emerged victorious, was proof of people showing support to the demonetisation drive.
The Prime Minister said the problems of the honest people will decrease after 50 days and those of dishonest will increase.
Taking a dig at the Congress Party, the Prime Minister said even after independence, India was still unable to achieve development and eradicate poverty.
"Had the previous governments taken development as their priority many problems which are creeping out now would have not occurred. Development has the capacity to lift people out of poverty, it is the only hope to live with dignity, that is why ever since we were given the mandate, we have made development as our focal point. We are clear on our approach and believe that development should be sustainable," he said.
"They (UPA rule) kept the rural people in darkness for 70 years. They were forced to live in 18th-century-like situation. Will they be forgiven for this?" he added.
Prime Minister Modi also heaped praise on Chhatrapati Shivaji for his valour and his contribution to development and good governance.
"Shivaji Maharaj was a multifaceted personality. So many aspects of his personality inspire us. His courage was known but there are so many more aspects of Shivaji Maharaj we must know about. Look at his policies on water, finance," he said.
The Prime Minister said India has the capacity to attract people with its robust tourism.
"If it is any sector which is accelerating it is the tourism sector. It has the capability to generate trillions of dollars worth revenue in the country. India, with its rich cultural history, has the capability to attract people all over the world," he added.
--ANI