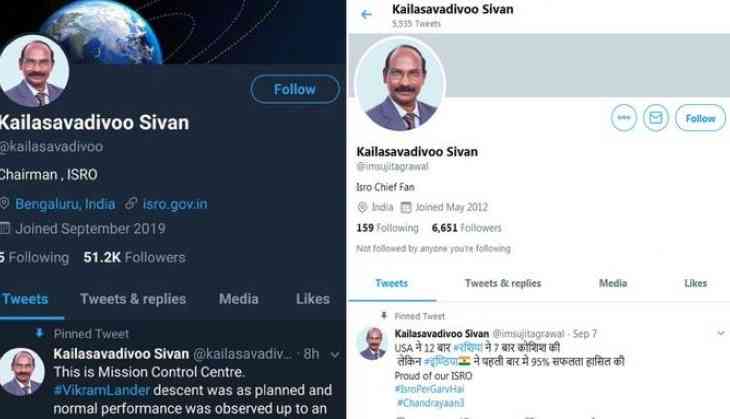 India's space agency ISRO on Mondy stated in a press release that the social media accounts, which are operating on social media platforms in the name of ISRO chairman K sivan are fake.
Indian Space and Research Organisation (ISRO) stated that its chief K Sivan does not have any personal account on any social media platforms and all the informations on such accounts are all fake.
Many hoax account in the name of K Sivan surfaced on different social media platforms after Vikram lander lost communication with ISRO just 2.1 km above the Moon's surface.
The whole nation commended ISRO and its scientists for the second lunar mission and in the midst of all this, a Twitter account became functional in K Sivan's name, ant the account accumulated over 30,000 followers at the drop of a hat.
Previously, a video of K Sivan being solaced by PM Modi after Vikram lander lost contact with the mission control room was also tweeted by this account and the video went viral in no time, other hoax account, which was also created in K Sivan's name, cumulated over 19,000 followers, the account was later erased.
AlsoRead:http://www.catchnews.com/world-news/i-congratulate-india-and-isro-on-chandrayaan-2-mission-says-pakistan-astronaut-172158.html
Notwithstanding that, ISRO sources on Monday stated that lander Vikram was not harmed regardless of its hard landing on the Moon's surface. Sources in the ISRO said to Zee News that the lander is unharmed and not broken in pieces. The sources, added that the lander was in a tilted position on the Moon's surface. It didn't land in the position, as planned by the ISRO.