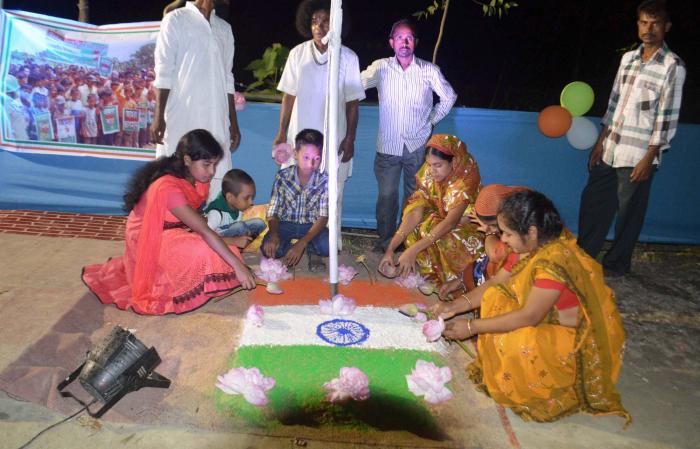 The much awaited exchange of enclaves (Chhitmahals) between India and Bangladesh came into effect from this midnight.
Though, no official ceremony was held but an organisation named Bharat Bangladesh Enclave Exchange Co-ordination Committee (BBEECC) organised a ceremony at Madhya Masaldanga enclave adjacent to Dinhata sub-division of Cooch Behar at night.
At 12.01 AM, the enthusiastic dwellers hoisted Indian national flag.
To mark the occasion of exchange, the BBEECC organised a festive ceremony at Madhya Masaldanga enclave, which was an enclave of Bangladesh encircled by Indian territory a few moments ago.
Ending more than four decades of waiting, the two countries started the exchange of 162 adversely-held enclaves, marking the implementation of their landmark land boundary agreement (LBA).
While India has handed over 51 enclaves comprising 7,110 acres to Bangladesh, the neighbouring country will give India 111 enclaves comprising around 17,160 acres.
Bangladesh and India will implement the LBA of 1974 and the enabling Protocol of September, 2011, in a phased manner over the next 11 months.
According to an estimate, around 37,000 people are living in Indian enclaves in Bangladesh while 14,000 people are staying in Bangladeshi enclaves in India.