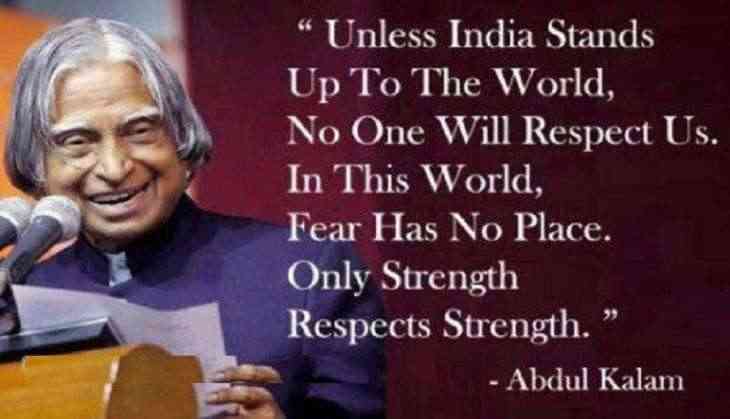 A renowned scientist, a beloved President, and a great teacher Dr. Avul Pakir Jainulabdeen Abdul Kalam was one of the most loved leaders of all time. His sudden death on 27 July 2015 came as a shock to his followers and admirers.
Popularly known as missile man of India Dr. Kalam was born on 15 October 1931 at Rameswaram in Tamil Nadu.
Two years before, today was the day when Kalam left the mortal world due to a massive cardiac arrest. But his words, his thoughts and his wisdom are still alive in this world.
Abdul Kalam has shared a vast collection of inspirational thoughts and beautiful quotes in his life time.
Here are some quotes shared by our former president:
1- "Success Is When Your 'Signature' Changes to 'Autograph'."
2- "All birds find shelter during a rain. But the Eagle avoids rain by flying above the clouds. Problems are common, but attitude makes the difference."
3- "Educationists should build the capacities of the spirit of inquiry, creativity, entrepreneurial and moral leadership among students and become their role model."
4- "Look at the sky. We are not alone. The whole universe is friendly to us and conspires only to give the best to those who dream and work."
5- "One of the very important characteristics of a student is to question. Let the students ask questions."
6- "Don't read success stories, you will only get a message. Read failure stories, you will get some ideas to get success".
7- "Climbing to the top demands strength, whether it is to the top of Mount Everest or to the top of your career."
8- "The best brains of the nation may be found on the last benches of the classroom".
9- "Let us sacrifice our today so that our children can have a better tomorrow."
10- "It Is Very Easy To Defeat Someone, But It Is Very Hard To Win Someone"