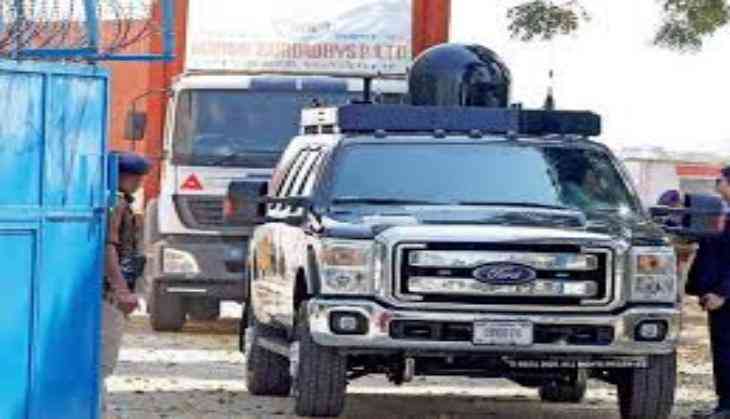 Ahead of US President Donald Trump's visit, the first cargo aircraft of the United States Air Force touched down in Sardar Vallabhbhai Patel International Airport in Ahmedabad on Monday.
To accompany Donald Trump a security vehicle, which would be part of his convoy during the 22 km roadshow, the aircraft is understood to have brought in other security paraphernalia also. Additional cargo aircraft are anticipated to make a landing in Ahmedabad over the next few days.
Seven aircraft of the US Air Force will also come along with Donald Trump, bringing along vehicels, weapons and equipments, said people conscious of the matter.
While four of the cargo aircraft are anticipated to make a landing in the city before the presidential visit, three more aircraft, including one passenger and two cargo plain, will come along with the President's Air Force One on 24th February, said one of the authorities, who did not wish to be named.
US Secret Service agents have already come to Ahmedabad and are staying at various hotels. They have also started working together with their Indian counterparts for the mega event. While the US Secret Service would be looking after the innermost layer of security, India's National Security Guard will look after the second layer and elite state commando force Chetak will work side by side with the NSG to ensure infallible safety.
Apart from, several teams of local police involving approximately 25,000 personnel will be stationed in all parts of the city and the venues. As per people aware of the information.
For the time being, security is being tightened across the city, specifically along the route of the roadshow.
While Gujarat CM Vijay Rupani conducted an inspection of the security details along with senior bureaucrats and police official of the state on Monday, residents along the 22 km route have been asked to get identity card from the police after providing Aadhaar details to attend the mega roadshow.
Also Read: Donald Trump: Looking forward to my India visit
Also Read: Donald Trump to visit India on February 24