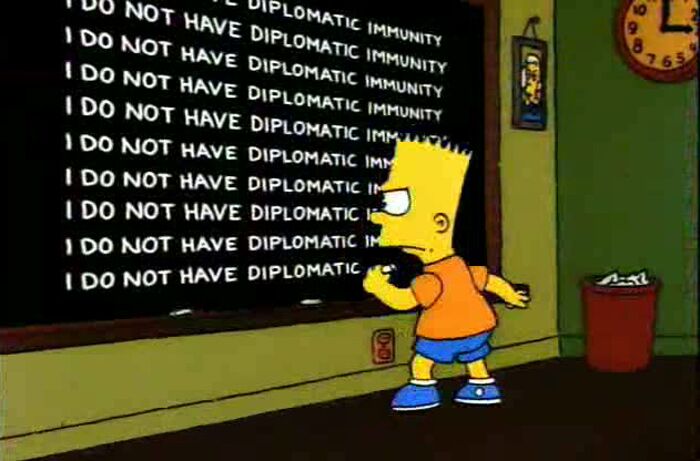 The recent case of two Nepalese women allegedly being kept captive as sex slaves by a Saudi Arabian diplomat in India has raised questions about how far diplomatic immunity can be stretched.
In this instance, the diplomat as well as his embassy has countered the allegations saying that the Indian police has been damaging his and his country's reputation on the basis of "mere charges". According to him, it is a violation of his and his family's rights. This when there is video footage of the women of his family spitting on and attacking the police when they went to his residence in an upscale locality of Gurgaon, not to mention one of the victim's statements as well.
However, there are fewer doubts about the diplomat getting diplomatic immunity under the 1963 Vienna convention, as the days go by and if this happens, it will definitely be a rough road ahead for the Indian police.
How far does diplomatic immunity extend?
Diplomatic immunity is a form of legal immunity that ensures diplomats are given safe passage and are considered not susceptible to lawsuits or prosecution under the host country's laws, although they can still be expelled. It was agreed as an international law in the Vienna Convention on Diplomatic Relations (1961) and defines a framework for diplomatic relations between independent countries.
Under the immunity, diplomats and embassy workers are accorded special protection and privileges wherever they are posted. Many of them can't be arrested, sued or even taxed by the host countries.
Misusing the shield
However, on some occasions, diplomatic immunity has lead to some unfortunate results (similar to what is being speculated in the Saudi Arabian diplomat case), where protected diplomats have violated laws (including those that would be violations at home as well) of the host country and that country has been essentially restricted to informing the diplomat's nation that the diplomat is no longer welcome (persona non grata).
Drugs and smuggling
Diplomats and officials involved in drug trafficking have benefited from diplomatic immunity. For instance, a Venezuelan general, Hugo Carvajal, wanted in the United States on drug charges and arrested in Aruba was released after the Venezuelan government cited his diplomatic immunity and threatened sanctions if Aruba did not release him.
Labour and slavery
In 1999, a Bangladeshi woman, Shamela Begum, claimed she had been enslaved by a senior Bahraini envoy to the UN and his wife. Begum charged that the couple took her passport, struck her, and paid her just $800 for 10 months of service - during which she was only twice allowed out of the couple's New York apartment. The envoy and his wife claimed diplomatic immunity, and Begum later reached a civil settlement with her employers.
In 2013 in Finland, a Philippine maid escaped from an embassy of an unidentified Asian country, and reported being held in conditions approaching slavery. She was forced to work from 7 am to 10 pm., seven days a week, and the ambassador's children were permitted to hit her. On grounds of diplomatic immunity, no charges could be filed.
Rape and assault
In April 2012, in Manila, Panamanian diplomat Erick Bairnals Shcks was accused of raping a 19-year-old Filipino woman, but was later released from detention as Shcks "enjoys protection under the 1961 Vienna Convention".
Parking violations
The Autobahn 555 in Cologne, Germany was nicknamed the 'Diplomatenrennbahn' (Diplomatic Raceway) because of the numerous diplomats that used to speed through the highway under diplomatic immunity.
Nobody knows this more than the people of New York City, home to the United Nations. Between 1997 and the end of 2002, foreign diplomats racked up more than 150,000 unpaid parking tickets - totaling a staggering $18 million. But thanks to diplomatic immunity, the city has no power to collect.
Vehicular assault
In January 1997, Gueorgui Makharadze, a high-ranking Republic of Georgia diplomat, caused a five-car pileup on Dupont Circle near Embassy Row that killed a 16-year-old Maryland girl. Makharadze's claim of diplomatic immunity created a national outrage in the United States. However, on the basis of the media coverage, Georgia revoked Makharadze's immunity, and he was ultimately sentenced to seven years in prison.
Murder
On 27 January 2011, in Lahore, Pakistan, an American embassy employee, Raymond Allen Davis, shot and killed two Pakistani civilians, while a third man was struck and killed by a U.S. consulate car responding to the shooting. According to Davis, they were about to rob him and he acted in self-defense.
When detained by the police, Davis claimed to be a consultant at the U.S. consulate in Lahore. He was formally arrested and remanded into custody. Further investigations revealed that he was working with the CIA as a contractor in Pakistan. The U.S. State Department declared him a diplomat and repeatedly requested immunity under the Vienna Convention on Diplomatic Relations.
Other cases
On 16 August 2012, it was alleged by the Ecuadorian embassy that the Government of the United Kingdom threatened to revoke the diplomatic status of the embassy of Ecuador in London in order to arrest Julian Assange.
In December 2013, Indian consular official Devyani Khobragade was detained, hand-cuffed, strip searched, DNA swabbed and held in a federal holding cell in New York, relating to allegations of non-payment of U.S. minimum wage and for fraudulently lying about the wages to be paid on a visa application for her domestic help. India registered a strong protest and initiated a review of privileges afforded to American consular officials in India as a result.