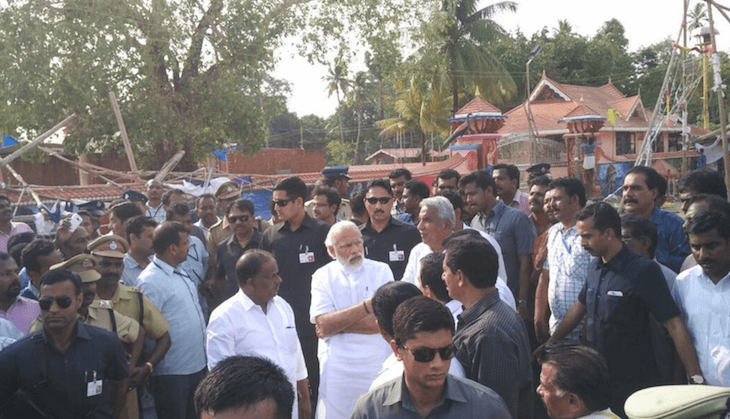 Kerala's Director General of Police (DGP) TP Senkumar had reportedly raised objections to Prime Minister Narendra Modi and Congress vice president Rahul Gandhi visiting Kollam hours after the temple fire disaster.
The Indian Express quoted Senkumar as saying that he did object to the idea of the PM visiting the region within 12 hours of the accident.
"I told them it would be better for the PM to visit the spot a day after the disaster. But the PM wanted to visit that day itself. Our entire force had been working from early morning, engaged in rescue and relief work. So much work was still left and all of them were tired because there was no provision of even drinking water. We had to make arrangements for the safety and security of Prime Minister Modi and Congress vice president Rahul Gandhi too," the DGP was quoted as saying.
On 10 April, a fire broke out at the Puttingal Temple in Kollam during celebratory fireworks, which left over 100 dead and nearly 400 injured.
Apparently, the SPG from the PM's Office contacted Senkumar for the visit. The DGP had informed him that the rescue workers were already overworked and requested that the PM make his visit on 11 April. His request was turned down.
However, Kerala Chief Minister Oommen Chandy insisted the PM's visit did not hamper the rescue work in any way.
The DGP's comments have reignited the debate whether VIPs should make visits to disaster-affected zones while rescue operations are still underway.