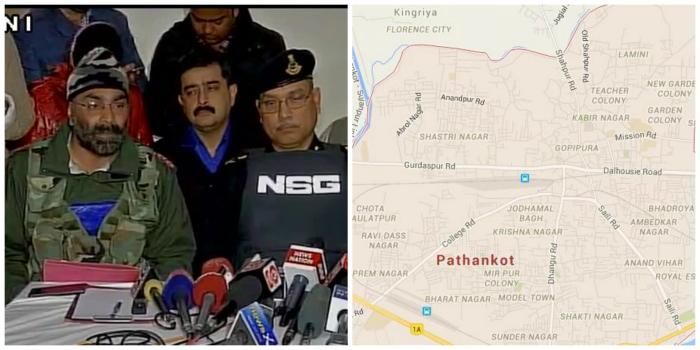 In the aftermath of the July 27 2015 Gurdaspur seize by terrorists just six months ago, Catch News had done a story on the heady nexus between drug peddlers and terrorists across the border of Punjab. Similar connection has come to the fore after Pathankot terror attack.
According to a report in Pioneer, the alleged Jaish-e-Mohammad terrorists selected a route usually taken by the drug smugglers to infiltrate the Indian side and launch a deadly attack on the IAF base in Pathankot.
According to the newspaper, the route was chosen by the alleged Pakistani handlers because the area is rich in thick elephant grass that is an extremely efficient camouflage.
Read More: Catch archive: the drugs and terror track in Punjab
Even after the Gurdaspur attacks, similar leads had emerged about drug peddlers aiding the movement of militants from the other side of the border.
Some striking similarities between Gurdaspur and Pathankot:
In both the attacks, the militants were on a Fidayeen or suicide mission.
Both incidents saw hijacking of vehicles prior to the storming of a major security spot.
Similarly in Gurdaspur case it was seize of Dinanagar police station. In case of the Pathankot attack it was another audacious attempt at attacking an Indian air base that houses elite air assets.
The terrorists apparently sneaked into India on the intervening night of December 30-31 from riverine border of tributaries of Beas river , reported DNA.
According to Punjab Police, the three fidayeen involved in the Dinanagar attack had entered the Gurdaspur sector after crossing the Ravi river near Mastgarh village, as reported by the Hindustan Times. However, the Border Security Force has countered this claim of the Punjab Police saying the GPS device recovered from them showed the ultras had planned a strike on the town too.
Sukhbir Singh Badal demands more Central Security
Owing to the developments in the last six months, it is clear that neither the Central government nor the Punjab Police have learnt their lessons.
Taking cognizance of the Punjab borders being used for increasing drug trafficking linked with infiltration, Deputy Chief Minister Sukbir Singh Badal announced on Sunday that a commando battalion will be established with the Punjab Police acting as the second line of defence, whereas the BSF would be first line.
Badal further said that the Centre should increase deployment of BSF personnel in the fencing area along the International Border, as the Pathankot attack the was second terrorist attack in the state in the past six months.