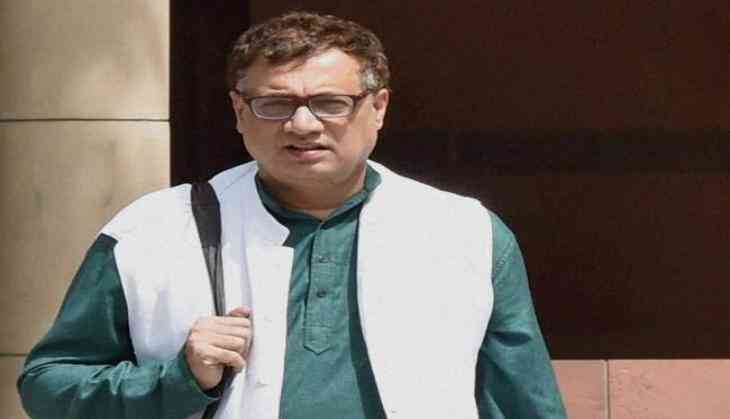 Amid a list of suggestions and expectations as a parliamentarian, Trinamool Congress (TMC) leader Derek O'Brien on 11 August coined an acronym imitating Vice President Venkaiah Naidu's popular style of speech.
Speaking in Rajya Sabha, Trinamool Congress (TMC) leader said, "Now that I have to address you not as Venkaiah ji but as the chairman for the first time ... let me welcome you in your favorite style..Acronym for Naidu 'Now All India's Dearest Umpire'."
Showering his best wishes on behalf of West Bengal Chief Minister Mamata Banerjee and Trinamool Congress Party, O'Brien listed out expectations of opposition members from new Rajya Sabha Chairman and said may the chair always listen to the voice of the Opposition.
"Sir, even when the debates get over heated, we are absolutely confident that you won't lose your cool but please keep a special eye on my colleagues of Trinamool," he said.
"We are confident that you will not commit that one sin of passing a bill in a din and I hope when honorable ministers will give you catchy questions and answers, with experience you will guide them and use your sage like power," he added.
Stating it to be serious, Rajya MP concluded with rhyming couplets and said, "Sir we wish you well as you began this new dawn."
The Leader of Opposition also praised Naidu for starting from a grass root level and achieving the position of a Vice President of India with utmost dedication.
"You have been one of those people who started from a grass root level and reached the peak, not only in your party, but also as a Vice President today. It is very inspiring both for the people of your party and the opposition, who work with utmost dedication," he said.
Earlier, Prime Minister Narendra Modi too welcomed Venkaiah Naidu as the Rajya Sabha Chairman, saying he is the first Vice President born in the independent India, adding that the former Union Minister knows the workings of the House very well after being active in it for so long.
Praising Naidu for his various rural development schemes, Prime Minister Modi said, "Venkaiah Naidu has gifted the nation with Pradhan Mantri Gram Sadak Yojana. He is a farmer's son and during his tenure as Poverty Alleviation Minister, he has always upheld the interests of the poor."
Naidu was sworn-in as the 13th Vice President of India today, succeeding Hamid Ansari, in a glittering ceremony.
President Ram Nath Kovind administered him the oath of office and secrecy at Rashtrapati Bhavan here.
Following the ceremonial reception Naidu took over as the speaker of the Rajya Sabha in the Parliament.
National Democratic Alliance (NDA) nominee and former union minister Naidu was elected as the 13th Vice President of India with 516 votes.
Opposition nominee Gopalkrishna Gandhi secured 244 votes out of 760 valid votes.
Naidu was elected as a member of the Rajya Sabha from Karnataka in 1998 and was re-elected twice in 2004 and 2010 from Karnataka.
He served as the Minister of Housing and Urban Poverty Alleviation and Information and Broadcasting in Prime Minister Narendra Modi Government before he was nominated for the post of Vice President.
-ANI