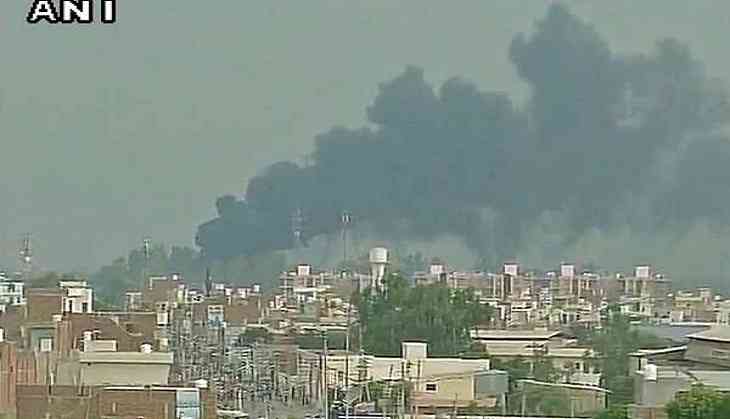 Following the agitation that began in the wake of Special Central Bureau of Investigation (CBI) court's verdict against Gurmeet Ram Rahim Singh in a 15-year-old's rape case, Dera Sacha Sauda was penalised by the Punjab and Haryana High Court on Friday.
The court said that the senior government officials in Panchkula should be given security by the paramilitary forces and added that the properties of the organization should be attached to pay for the losses caused due to violence.
Gurmeet Ram Rahim, on Friday, was held guilty by the Special CBI Court of Panchkula. The quantum of sentence will, however, be announced on August 28.
Popularly known as Baba Gurmeet Ram Rahim Singh, he has a following of more than 60 million of his faithfuls, especially the Dalit Sikhs, according to the website of his organisation Dera Sacha Sauda. His followers reacted violently on hearing the verdict.
Following are the updates related to the case:
- Three miscreants have been arrested in Delhi, patrolling is being done in different areas by the Delhi Police, reported Madhur Verma, Delhi Police PRO
- 1000 Dera Sacha Sauda have been detained, says Haryana's ADGP (Law & Order) Muhammad Akil
- Death toll in violent protests in Panchkula climbs to 17 and 200 injured
- Punjab and Haryana High Court says properties of Ram Rahim Singh should be attached to pay for the losses due to violence.
- Security at Delhi BJP headquaters increased post violence at various places
- Security in and around Civil Hospital in Sector 6 Panchkula also increased; Death toll reaches 12,100 injured in violent protests
- Violence reported in Delhi, two buses set ablaze on Mandoli flyover in Delhi's Nand Nagri.
- Death toll in Panchkula violence rises to 12, says CMO civil hospital.
- Bus set ablaze near Babu Jagjivan Ram Memorial Hospital in Delhi
- Two empty rakes of Rewa Express at Anand Vihar Terminal railway station set on fire: Northern Railway Spox Neeraj Sharma
- Police say bus torched in northeast Delhi's Loni Chowk
- Security tightened at railway stations in Delhi
- Army columns moved into Haryana's Sirsa district for quick reaction, as violent protests continue post rape conviction of Dera Chief Ram Rahim Singh
- The duty doctor at the Civil Hospital in Panchkula said at least five people were killed and 50 injured, including journalists and police.
- 6 Army columns deployed in Panchkula post conviction of Dera Chief Ram Rahim Singh Ram Rahim Verdict
- Central Industrial Security Force personnel deployed within one km radius of Rohtak's Sunariya Jail Haryana
- Curfew imposed in Punjab's Muktsar, Bathinda, Mansa
- RamRahimVerdict: Administrative machinery geared up in Western Uttar Pradesh- Anand Kumar, ADG Law and Order
- Five people dead in Panchkula violence, says duty doctor at civil hospital. Delhi Police have been patrolling in different areas of the city, and three miscreants have been arrested so far.
Ahead of the verdict, High Court had said that it doesn't want a situation like that of the Jat agitation to take place again in Haryana and had, hence, asked the Centre to deploy additional forces, and take strong steps.
Around 53 companies of the paramilitary forces and 50,000 personnel of the Haryana Police had also been deployed. In addition, the Army was also alerted.
The administration was asked to take a stringent action if anyone tries to break the law.
The Punjab and Haryana High Court had also pulled up the Haryana Government over the security arrangements provided in the state.
The Chief Minister had also ordered the withdrawal of 1000 police personnel from VVIP security for deployment on field duty to strengthen the security blanket in the state
The Central Government had, on its part, assured that a necessary action would be taken to curb any agitation.
Former Jammu and Kashmir chief minister Omar Abdullah on Friday asked Prime Minister Narendra Modi to sack Haryana Chief Minister Manohar Lal Khattar for negligence of his duty in stopping the violence.
-ANI