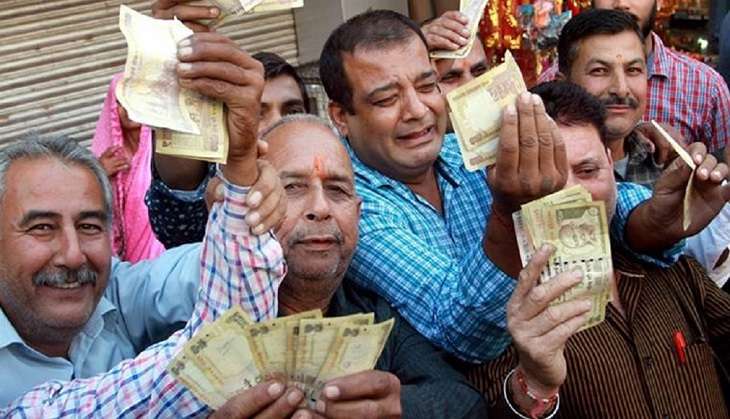 With the emerging chaos and public anger rising across the country over limited cash availability post the announcement of demonetisation, the government on 13 November announced that the old Rs 500 and Rs 1000 will be valid till 24 November.
The Finance Minister made the announcement stating that the decision has been taken considering representations received from different quarters in the matter.
Hospitals, petrol pumps, CNG gas stations and milk booths have been directed to accept old Rs 500 and Rs 1000 notes.
The government also eased key restrictions including raising daily withdrawal limit from bank counters and ATM as well as hiking the amount of old and now defunct currency notes that can be exchanged.
Read More: Demonetisaiton: Govt increases withdrawl limits at ATMs and banks; launches Rs500 notes
To augment cash supplies, newly printed hard-to-fake Rs 500 notes were also released in market.
After a review by Finance ministry, the limit of old and now defunct Rs 500 and Rs 1000 rupee notes that can be exchanged for freshly minted Rs 2000 and new Rs 500 notes was increased from Rs 4000 to Rs 4500 per day.
Cash withdrawal limit at ATMs was hiked to Rs 2,500 from Rs 2,000 a day.
The weekly limit of Rs 20,000 for withdrawal from bank counters has been increased to Rs 24,000. The maximum limit of Rs 10,000 per day on such withdrawals has been removed, the ministry said in a statement.
The minute Prime Minister Narendra Modi announced the demonetisation of Rs 500 and Rs 1000 notes, banks and ATMs witnessed chaos and serpentine queues as cash-starved people jostled one another in their rush to get their hands on money.
To manage anxious crowds, as many as 3,400 personnel of paramilitary and Delhi Police along with 200 quick reaction teams have been deployed at ATMs and banks.
Reports of chaos and scuffle at bank branches and ATMs streamed in from different parts of the country on 12 November.
Some have also resorted to burning banknotes to get rid of excess cash. The burnt remnants of Rs 500 and Rs 1,000 currency notes were found at a place in Bareilly, Uttar Pradesh. The now invalid notes were also found floating in river Ganga.
Also Read: PM Modi holds late-night meeting with senior ministers to review the demonetisation program
--With PTI inputs