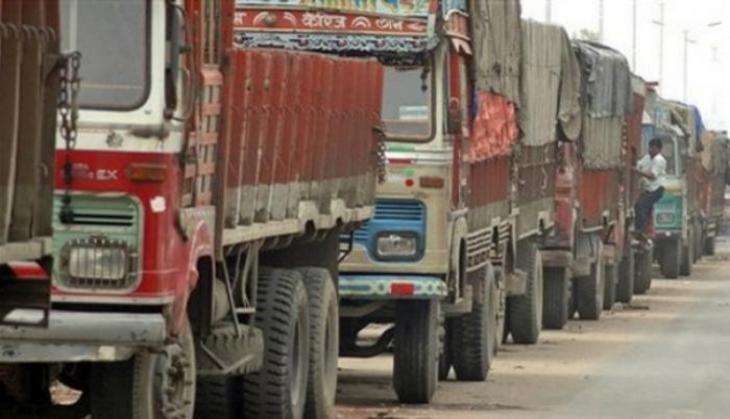 Cash crunch paralyses goods movement; 4 lakh trucks stranded on highway (Photo: Representational ima
Stating that around four lakh trucks are stranded in various parts of the country, the apex transporters body AIMTC demanded immediate increasing of cash withdrawal limit from ATMs and banks to avoid crisis.
All India Motor Transport Congress (AIMTC), claiming to have 93 lakh truckers, 50 lakh buses and tourist taxi and cab operators under its fold, said at least eight lakh drivers and conductors were severely impacted in the wake of de-legalising of Rs 500 and Rs 1,000 currency notes.
Also Read: No stone-pelting incidents in Kashmir since demonetisation announcement: Manohar Parrikar
"Our about 4 lakh trucks are stranded across India with about 8 lakh drivers and conductors severely hit. The sudden ban on higher denomination notes have made them stand in long queques before banks in different parts. The withdrawal limit is minuscule with ATMs at many places not working and paralysing the transport business," AIMTC president Bhim Wadhwa told PTI.
Also Read: Children's Day special: Rs 500 in hand but no money to eat; your black money is making street kids starve
Demanding immediate increasing of withdrawal limits, Wadhwa warned that essential supplies like milk, vegetables, fruits and medicines would be impacted. The drivers and tourists who are en route do not have ample cash in hand and are starving on the highways with no help coming from any quarter, he said.
Also Read: Here's what Arvind Kejriwal, Kapil Sibal, other political leaders have to say about 'surgical strike' on black money