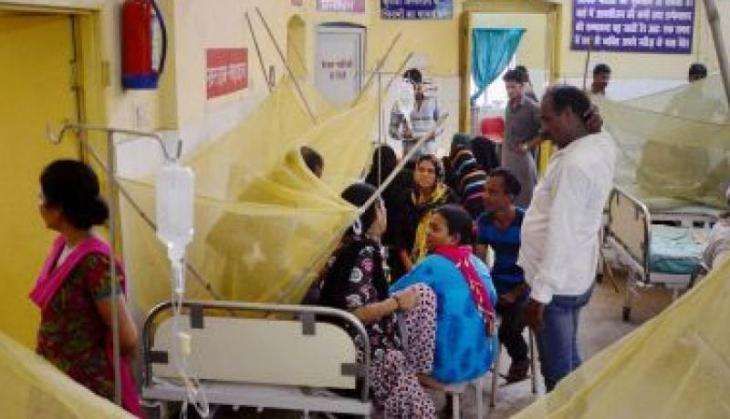 A 'terminator' train mounted with spraying machines will be deployed in New Delhi to fight chikungunya and dengue from 23 September on.
This is a joint move between Delhi's civic bodies and Northern Railways and will continue for two months, with an interval of two weeks.
According to reports, the sprayers will be effective for up to a distance of 50-60 metres from the track and will be mounted on the last wagon of the special train that will cover a distance of approximately 150 km.
"The water bodies formed on the land adjacent to tracks, which are otherwise inaccessible, act as a breeding ground for mosquitoes. The insecticide sprayed over the water bodies will check the threat in the most effective manner," a municipal official told dna.
The terminator train will pass through Old Delhi's Sarai Rohilla, Patel Nagar, Delhi Cantonment, Palam, Safdarjung, Kishanganj, Lajpat Nagar, Hazrat Nizamuddin, Adarsh Nagar, Rathdhana, Shahdara, Palam and Gurgaon.
Meanwhile, taking note of the rising number of deaths due to chikungunya complications, the Centre on 17 September sought a detailed report from the Delhi government on deaths due to it and dengue, including medical history of the deceased.
Chikungunya and dengue have claimed at least 31 lives and affected nearly 3,000 people in Delhi. Eighteen people have died of dengue which has affected over 1,100 people in the city.
"We have asked for a detailed report on the deaths due to the vector-borne diseases in the city. Also, we have sought medical history of the deceased, whether they had any co-morbid conditions," Union Health Minister J P Nadda said on the sidelines of a symposium here on liver transplant.
"Many of the patients diagnosed in Delhi are coming from the NCR region and so fever clinics could also be set up there. We are resolving this matter with Haryana and other governments in the NCR," he said.
Nadda also met Delhi Health Minister Satyendra Jain to discuss the situation and assured all support to the city government, while asserting that no patient is being turned away without treatment and there is no shortage of doctors and drugs.
"It was discussed that reporting of all the vector-borne diseases should be done on a priority basis from every hospital, nursing home, laboratory to the government agencies concerned without failure which is imperative for monitoring the situation and for appropriate preventive measures including fogging of the region concerned," a Delhi government statement said.
The government has also asked private hospitals not to release data on vector-borne disease cases "directly to the press", which may "create panic".
In the wake of chikungunya outbreak, the Delhi government has initiated the process for declaring chikungunya as a notifiable and dangerous disease.
Doctors say that chikungunya is not a life-threatening disease in general, but in rare cases leads to complications that prove fatal, especially in children and old persons.
Recent reports claim that chikungunya and dengue have wreaked havoc in the Capital with the death toll from the two vector-borne diseases climbing to 30, with 13 due to chikunguniya complications. The number of affected people has crossed 3,000.
--With inputs from PTI