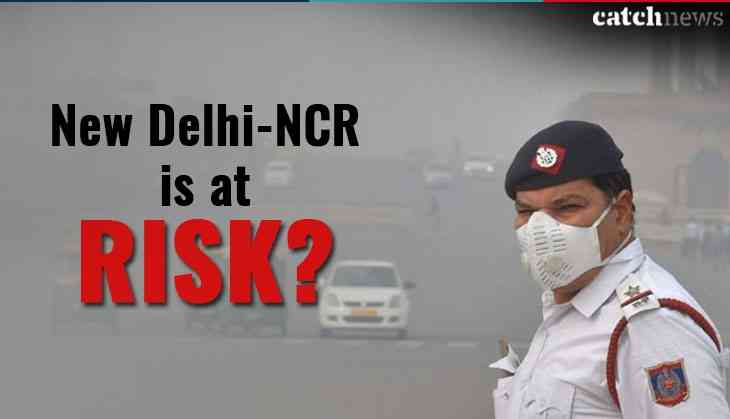 pollution rises at alarming level
The Delhi has yet again entered the phase of smoke + fog where smog will greet the Delhiites and the respiratory issues will henceforth increase. As emergency measures are being taken to check pollution in Delhi-NCR, the government has banned diesel and petrol vehicles ranging from 10 to 15 years old.
Delhi Transport Minister Kailash Gahlot has said, "The Delhi government is fully prepared to take measures as per Graded Response Action Plan (GRAP), including the odd-even scheme are concerned. We will take them when needed."
"Green firecrackers have been introduced ahead of Diwali. As of now, in the next few days, there is no chance of improvement in the air quality but we are trying our best," said Union Health Minister Dr. Harsh Vardhan on air pollution increasing at an alarming rate in Delhi.
In a response to Supreme Court's observation regarding the setting up of social media accounts, the Central Pollution Control Board today said, "a social media account on Facebook & Twitter has been created to allow citizens to complaints about pollution & so far it has received 18 complaints."
The apex court has now asked the CBCB to publicize the opening of social media sites.
CPCB chairperson S P Singh issued directions for construction agencies and said, "Failure to which will make the defaulting agencies and individuals liable to criminal prosecution which may be initiated by the CPCB under appropriate provision of the law."
The Delhi High Court in 2015 had observed that 'Delhi has become a gas chamber' and health issues of asthma and respiratory are increasing day by day.
Also read: Lok Sabha Election: PM Narendra Modi's brother Prahalad Modi to support Mamata Banerjee's TMC in
Delhi: Union Minister Dr Harsh Vardhan holds a meeting with Delhi Environment Minister over review and action plan on air pollution. pic.twitter.com/GKda1nlOTO

— ANI (@ANI) November 1, 2018