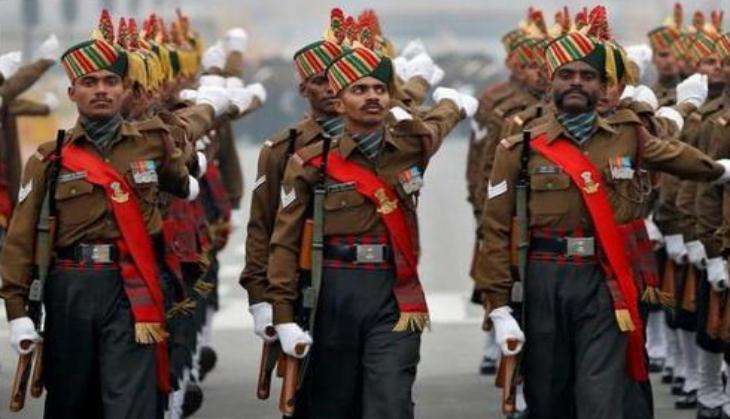 The full dress rehearsal of the Republic Day Parade will be held at Rajpath in Delhi on 23 January.
The full dress rehearsal parade will begin at 9.50 a.m. from Vijay Chowk and proceed to Red Fort. All the offices in the vicinity of Rajpath will remain closed till 1 pm on 23 January.
The Delhi Traffic Police has made elaborate arrangements for smooth conduct of the Parade along the route.
Traffic from Vijay Chowk to India Gate on Rajpath has been closed from 6.30 p.m. yesterday evening and no traffic will be allowed till the parade is over today.
Similarly, traffic will not be allowed at Rafi Marg, Janpath and Man Singh Road today till the parade is over.
Metro rail services will remain available for the commuters at all metro stations during the full dress rehearsal parade.
However, boarding and de-boarding at Central Secretariat and Udyog Bhawan will not be permitted from 5 a.m. to 12 noon and Lok Kalyan Marg and Patel Chowk from 8.45 a.m. to 12 noon today.
Seventeen states and six Ministries and Departments tableaux will participate in the Republic Day Parade this year.
Briefing media in New Delhi yesterday, a Defence Ministry official said, these tableaux will showcase varied themes starting from country's rich cultural heritage and socio-economic development to nation's progress in key areas like IT, Women, Empowerment and Environment Protection.
Each State tableau depicts its own story to portray themes ranging from art form, folk culture, flora and fauna and achievements. Lakshadweep tableaux will participate in parade after 26 years and Delhi tableaux after 3 years.
Tableaux on GST, Skill India, Housing for All, Khadi India and Green India - Clean India will also be the part of the celebration.
-ANI