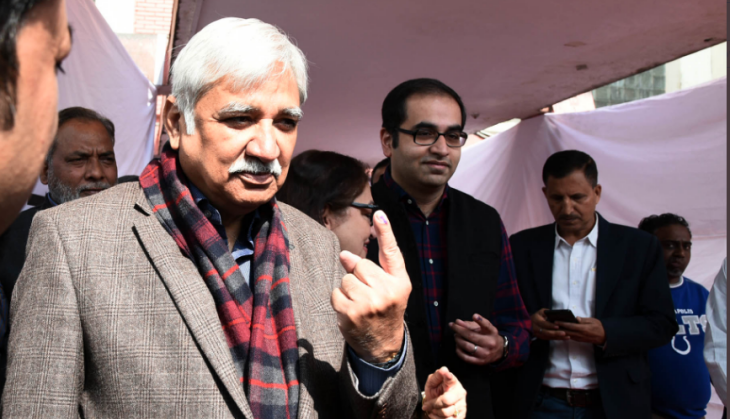 Chief Election Commissioner Sunil Arora on Saturday exercised his franchise at Nirman Bhawan polling booth in Central Delhi.
Congress president (interim) Sonia Gandhi and former Prime Minister Manmohan Singh also cast their votes at the same polling booth earlier in the day.
Meanwhile, Congress leader Priyanka Gandhi Vadra, her husband Robert Vadra and their son Raihan Rajiv Vadra who is a first-time voter, cast their vote in Lodhi Estate.
Speaking to news agency ANI, Raihan said: "It was a nice feeling to take part in the democratic process. Everyone should exercise their right to vote. I think everyone should have access to public transport and it should be subsidized for students."
As many as 13,571 polling stations are there at 2,688 locations, where polling to 70 Assembly seats in Delhi is going on. Out of these, 3,141 are critical polling stations and 144 are vulnerable polling stations. Delhi is witnessing a triangular contest among the ruling AAP, which won a landslide majority in the last elections, the BJP and the Congress. In the last poll, the AAP had won 67 seats, the BJP 3. Congress didn't open its account.
Kejriwal led Aam Aadmi Party (AAP) is hoping to retain power for the second consecutive term. Similarly, the BJP is hopeful to gain a majority by cashing in on the popularity of Prime Minister Narendra Modi.
Also Read: Smriti Irani slams Arvind Kejriwal after Delhi CM asks women to discuss vote with men