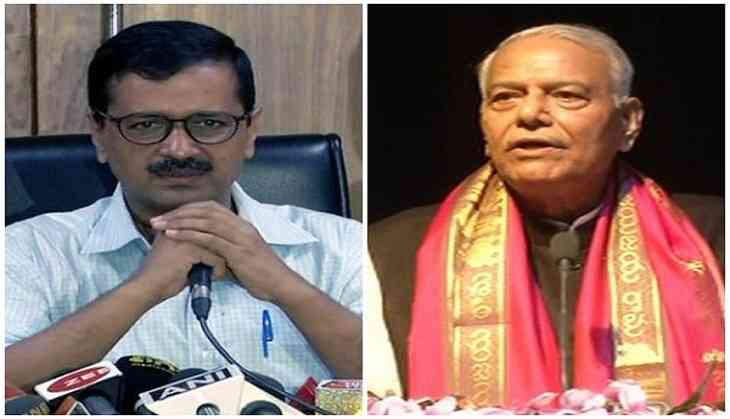 Delhi Chief Minister Arvind Kejriwal has urged former Bharatiya Janata Party (BJP) leader Yashwant Sinha to contest the upcoming Lok Sabha elections in 2019.
However, the Aam Aadmi Party (AAP) national convener did not name the party or the constituency from which the former finance minister should contest the polls.
After asking people whether Yashwant Sinha should contest in elections or not, the Delhi Chief Minister said, "Recently you (Yashwant Sinha) announced that you won't contest elections, but if good people like you won't do it then who would? Sir, it's the public demand that Yashwant Sinha should contest elections."
The Chief Minister was addressing a 'Jan Adhikar' rally, organised to mark the end of a 'padayatra' under the leadership of AAP leader and Uttar Pradesh in-charge Sanjay Singh. The 10-day padayatra by Singh was started from Saharanpur to raise issues of farmers and governance.
Recalling measures taken by his party in education and healthcare sectors, and regulation of power tariffs, Kejriwal asked, "If we can transform the government schools in Delhi, create hundreds of mohalla clinics and provide power at the lowest tariff in the country, why can't Modi Ji do it across the country?"
Taking a jibe at the country's top leadership, Sinha, who was also present at the event along with Kejriwal, said "Nowadays those participating in debates on TV channels are considering themselves as leaders. Some think the citizens of this country are fools and the media is under their control. But the people will no longer accept this. They will punish those guilty in the upcoming elections."
Meanwhile, BJP leader Shatrughan Sinha, who was also present at the event, heaped praises on the Delhi Chief Minister for the Mohalla Clinics system.
"Good work should be appreciated, while bad deeds should be condemned. Demonetisation, fall in the value of rupee and rising fuel prices have impacted common man. I am not against the party I represent, but if this is seen as opposing party views, then yes, I am opposing," he said.
(ANI)