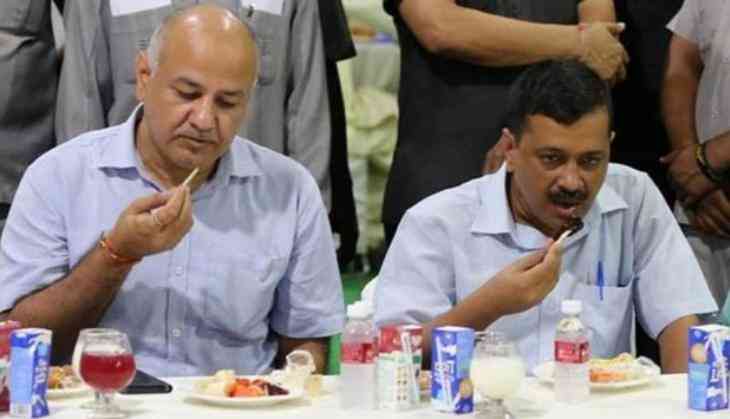 Delhi's Arvind Kejriwal government organized the Iftar party on Monday for the Muslim Community friends on the occasion of Ramzan month. It was called from opposition leaders, bureaucrats to the central government's representatives. Well, there something really awkward happened during Iftaar party, as none of the guest appeared in the get-together-party. CM Arvind Kejriwal told party workers and supporters here that he is confident that this will help his government overcome all obstacles because 'his intention is fine'. He appealed to people that trying to break the society stand against 'divisive elements'.
The Ifataar party was held at the lawn of the Police Services Officers Institute. The arrangements were complete, the chairs were organized systematically. The care was taken of the decorations and there was also a arrangement of both vegetarian and non-vegetarian dishes. But apart from Congress and BJP leaders, no representative of the Central Government was seen in the event.
The program was organized from 7 a.m. to 8 p.m. According to the workers of the Aam Aadmi Party and the people inside the Delhi Government, they had sent the 'invitation according to the protocol'. Under the protocol, the Vice President, the lieutenant governor, the leader of the opposition, the legislators of all parties, MPs and diplomats comes first.
If you talk about the leaders, apart from party MLAs and Ministers, Ashtis Marlena and Dilip Pandey were present in the program. CM Kejriwal arrived with Deputy CM Manish Sisodia, PWD Minister Satyendra Jain and Environment Minister Imran Hossain at around 7 pm. They left at 7:30. However, no man outside the Aam Aadmi Party was seen here. According to the officials of the state, Lieutenant Governor Anil Baijal went to the conference of governors and lieutenant governors held at Rashtrapati Bhavan.
Delhi Assembly's opposition leader Vijender Gupta also didn't came in the party. He said that perhaps the government has sent formal invitations as a card.
Also read: Ex-Bigg Boss contestant Armaan Kohli charged for physically assaulting girlfriend; the actor is on the run