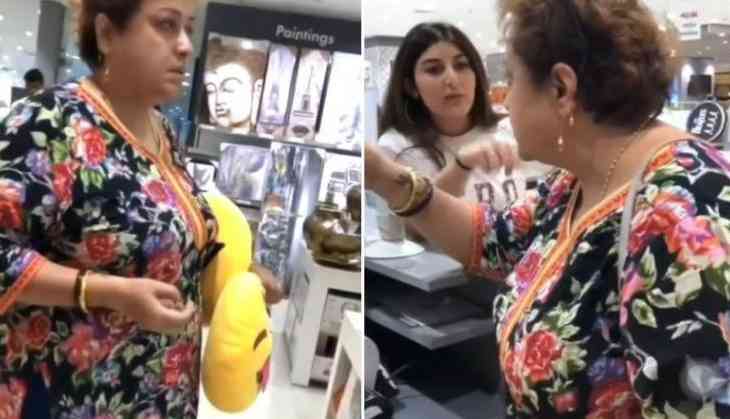 Delhi Aunty who went viral on social media for slut-shaming a group of girls for wearing short dresses in Delhi has finally apologised for her ruthless and sexist remark. Among the six girls, one girl named Shivani Gupta was allegedly verbally abused by the woman who claimed that such girls should get raped. Not just this, the women also asked the men sitting in a restaurant to rape them as a punishment.
The women were repeatedly asked to apologise but she stands firm on her remark till the video was being made by the girls, who followed her to a shopping mall from the restaurant just to ask her to apologise.
However, the woman took to her Facebook page and posted an apology on her account where she wrote, "I extend an unconditional apology to all the girls. In hind sight, I realise, I was harsh and incorrect in my statement. If any, I should have offered my opinion in private. I was concerned, however, I realise that I should have been protective and progressive in my outlook and not conservative and regressive."
She also added, "As a wife, sister and a mother and more importantly as a woman, I value ever woman's dignity. Once again, I profusely apologise to all women who's sentiments have been hurt."

Delhi Aunty
With this apology, she stated that she was concerned and worried towards the girls but admits that she was wrong and should have kept this opinion to herself
Though it is yet to be confirmed that this message is not from the fake Id.
The aunty threatened the girl, age of her daughter to be raped for wearing short clothes.

The girls threatened aunty, the age of their mother to be raped publicly outside in clothes.
Watch at 7:30 min.👇ahttps://t.co/uLscNjM6ok

— Vatsal Patel (@Vatsaldmj) May 2, 2019
Also Read-
Pakistan Airlines trolled for serving 'English' breakfast to passengers; 'No Halwa Puri?', Twitterati asks