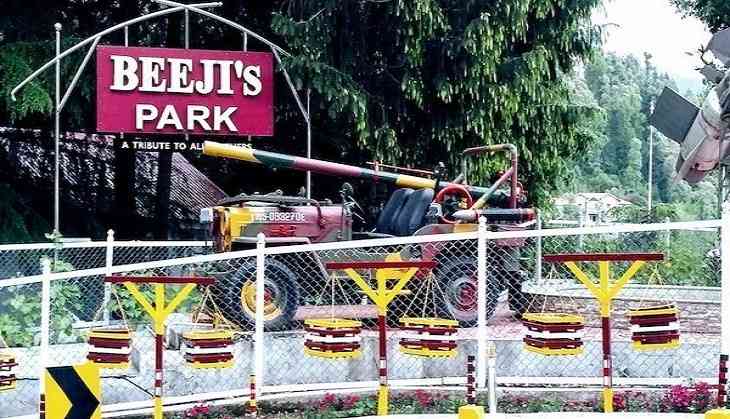 Dalhousie, Himachal Pradesh, has a new and popular tourist destination -- the Defence Park also known as "Beeji's Park".
Located at a height of 6,460 feet, Beeji's Park attracts hundreds of tourists, local and foreign, because of its location along the scenic Dhauladhar mountain range. It is managed by the Dalhousie Public School.
The park is set up in area which was otherwise a piece of wasteland. Beeji's Park is located on a road connecting Dalhousie town to Khajiar (the latter often referred to as Mini Switzerland). The park was visited by six lakh domestic and foreign tourists in 2017 (an average of 1500 tourists a day).
Around four lakh domestic and foreign tourists have visited the park between January and May 2018.
"Russian supplied T-70 tanks, state-of-the-art weaponry and other hi tech defence equipment are displayed at the park. These played a major role in the 1971 Indo-Pakistan War as well as the 1999 Kargil War," said Dr. G.S.Dhillon, Chairman, Dalhousie Public School.
The park was inaugurated on October 15, 2016 by Chief of Naval Staff, Admiral Sunil Lanba.
The park also has a MIG-21 fighter aircraft presented by Air Chief Marshal N.A.K.Brown, former Chief of Air Staff, on October 7, 2013. Two surface-to-air Pichora missiles were gifted by Air Chief Marshal Arup Raha, former Chief of Air Staff, on March 15, 2015.
There are other landmark weaponry that have been installed in the park, each with its own history.
Eastern Naval Command has presented a model of a frigate to Dalhousie Public School, which has been named as INS Madan Singh. The Indian Navy has named a war ship in memory of Sardar Madan Singh, who as a young naval officer, led the Naval Mutiny of 1946 that shook the very foundation of the British rule in India.

The Indian Navy in recognition of Sardar Madan Singh's services, named a warship auxiliary in his name on February 26, 1999.

Sardar Madan Singh's daughter, Mrs. Annurag Dhillon, is the wife of Dr. (Capt.) G.S. Dhillon, who is the Chairman and Director of the Dalhousie Public School, Dalhousie.
"The park is a perfect blend of natural grace and artificial finesse. It is also a source of inspiration and motivation for students to join the Indian armed forces," said Dr. Dhillon.
(ANI)