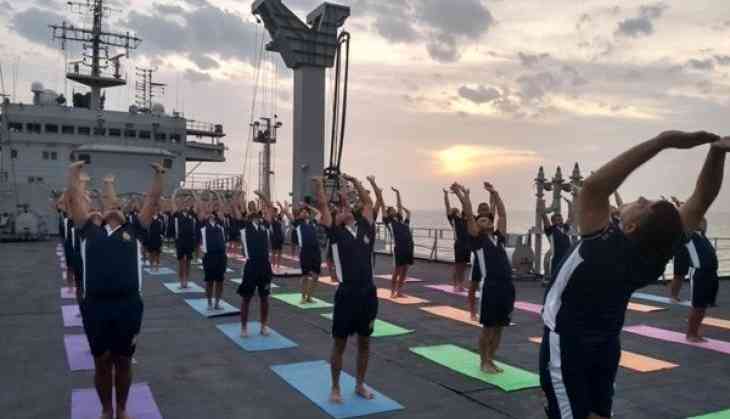 As the fourth edition of the International Yoga Day kicked off today, armed forces did their bit by organising yoga sessions across the country.
In Ladakh, Indo-Tibetan Border Police personnel defied the biting cold weather and performed Surya Namaskar asana (posture), at an altitude of 18,000 feet. The jawans were seen doing yoga wrapped up with thick jackets and woollen caps to beat the chill.
In Arunachal Pradesh's Lohitpur, the ITBP jawans went a step ahead and performed 'River Yoga', where the personnel were seen doing Surya Namaskar asana in the Digaru river.
In Mumbai, Indian Navy personnel were performing various yoga asanas on board the INS (Indian Navy Service) Virat. Girish Luthra, Vice Admiral, Western Command was also seen flexing his muscles.
Mumbai_Yogajun214578.jpg" alt="" class="img-responsive">
Down south, on board the INS Jyothi in the Bay of Bengal off Visakhapatnam, the Eastern Naval Command Staff and Eastern Naval Command's submarine staff participated in the International Yoga Day celebrations.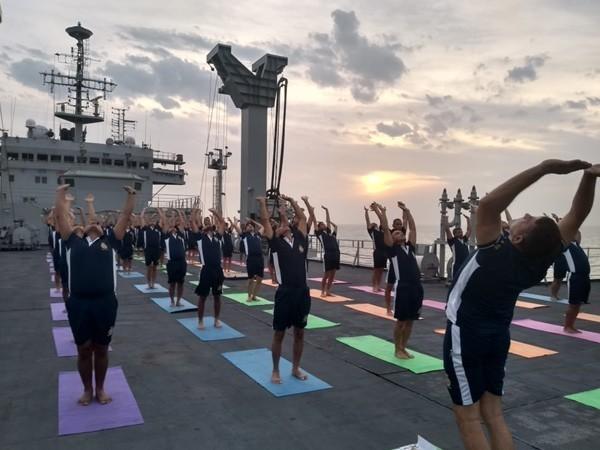 In Visakhapatnam, Vice Admiral Karambir Singh, Flag Officer Commanding-in-Chief of Eastern Naval Command and Navy personnel were seen flexing their muscles to mark the occasion.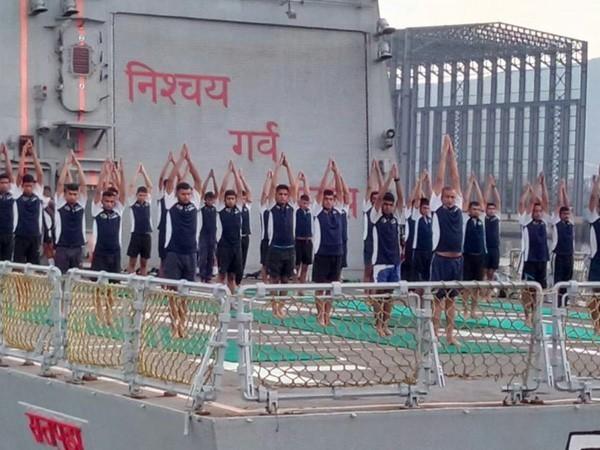 Navy personnel performed various yoga asanas onboard INS Jamuna off Kochi in Kerala.

Meanwhile, in Mumbai, Maharashtra Governor C. Vidyasagar Rao performed yoga at his Raj Bhavan residence.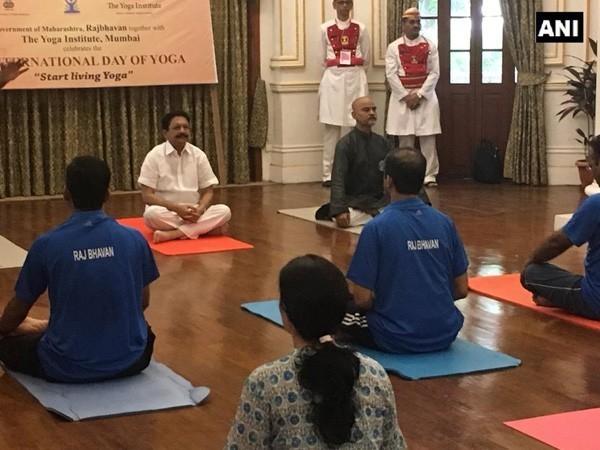 Earlier in the day, Prime Minister Narendra Modi asserted that Yoga has become one of the unifying forces of the world.
Addressing the gathering on the occasion here, Prime Minister Modi said, "In today's fast-changing time, Yoga binds together a person's body, brain and soul, hence making one experience a feeling of peace. Dehradun se Dublin tak, Shanghai se Chicago tak, Jakarta se Johannesburg tak, Yoga hi Yoga hai (From Dehradun to Dublin, Shanghai to Chicago, Jakarta to Johannesburg, there is Yoga all around). Yoga has become one of the unifying forces of the world."
Emphasising the power of yoga and its global reach, Prime Minister Modi said, "Yoga is India's gift to the world. It is a passport for wellness. The world has embraced Yoga and glimpses of this can be seen in the manner in which International Day of Yoga has been marked every year. In fact, Yoga Day has become one of the biggest mass movements in the quest for good health and well-being."
Along with the Prime Minister, around 50,000 yoga enthusiasts kick-started India's International Yoga Day celebrations at Dehradun-based Forest Research Institute.
The first International Day of Yoga was observed all over the world on June 21, 2015, where more than 30,000 people, including Prime Minister Narendra Modi, performed yoga asanas at Rajpath in New Delhi.
The idea of International Day of Yoga was first proposed by Prime Minister Modi during his speech at the United Nations General Assembly (UNGA) on September 27, 2014.
(ANI)