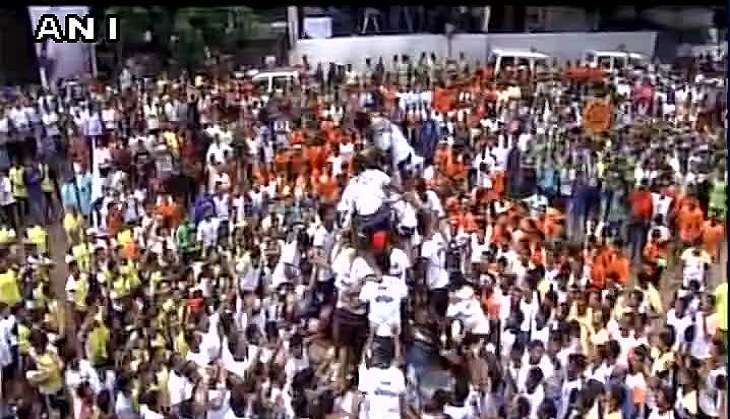 We the people of India are a little bit obsessed with tradition. Even if these traditions in question come in the way of common sense, and a Supreme Court ruling.
In a brazen act of defiance, the Maharashtra Navnirman Sena (MNS) is openly flouting Supreme Court regulations by reportedly organising a human dahi handi pyramid rising to a height of 49 feet in celebration of Janmashtami, in Mumbai's Thane area.
Only yesterday, the Supreme Court rejected the petition filed by the Jai Jawan Krida Mandal Govinda Pathak, seeking to relax the cap on the height of the human pyramid fixed at 20 feet for the Dahi Handi ritual.
Also read - SC rejects petition seeking to raise height of Dahi Handi in Janmastami festival
According to an NDTV report, Avinash Jadhay, the organiser of the celebrations has said that he only takes his orders from MNS chief Raj Thackeray.
"The Supreme Court cannot dictate how we celebrate our festivals. If I break the law then I am willing to go to jail for this," said Jadhav.
Raj Thackeray has reportedly instructed his party workers that the festival celebrating the birth of Lord Krishna is to be observed "the way it's meant to be".
The prize money for the human pyramid rising to a whopping 49 ft has been set at Rs 11 lakh. Raj Thackeray himself is expected to visit Thane to take part in the celebrations.
In an act of protest, 'Govindas' in Dadar have been hoisting black flags protesting the Supreme Court order, and have been resorting to using ladders as well.
Some of them have taken to making a 20+ ft pyramid lying on the ground as another form of protest.
Against the backdrop of the Supreme Court's directions on Dahi Handi celebrations in Maharashtra, a very disgruntled Shiv Sena has said that the government should have come out with an Ordinance reversing the apex court order.
The Sena said that the police, instead of going about their duty of catching criminals, will now have to monitor the celebrations to follow the SC's guidelines and keep a watch on the height of human pyramids and the age of 'govindas'.