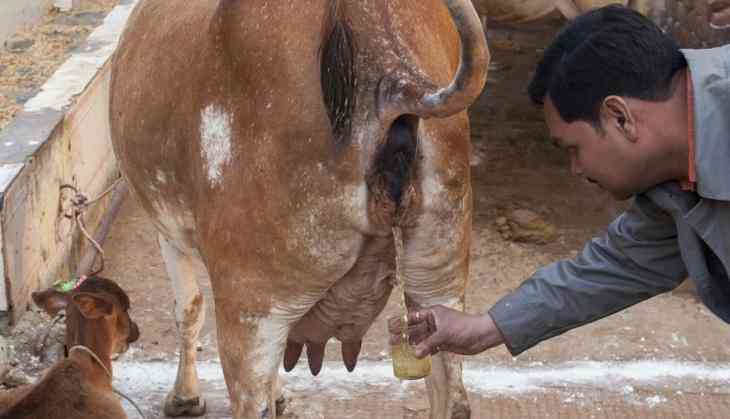 Flash floods triggered by incessant rains in Rajasthan have taken a big toll on the State's rich bovine wealth. The districts of Jalore and Sirohi, considered to be locations with world's largest cow shelters, have been witnessing large scale deaths of cows after torrential rains in the region. The two districts alone have accounted for deaths of more than 800 cows in gaushalas (cow shelter). According to officials in the affected districts, the gaushala run by Pathmeda Trust have been the worst affected.
The Pathmeda Trust alone takes care of 50,000 cows in 10 cow shelters in Rajasthan, mostly in Jalore and Sirohi. It also manages the famous Pathmeda Gaushala in Jalore district's Sanchore town. Pathmeda Trust officials attributed the large scale deaths of the cattle to the breach in the dam at Panchla. While some of the cows were washed away others died after getting stuck in the slush in the swampy region.
Govind Ballabh, a conservator of one of the gaushalas, said the area had 18 shelters. The main shelter in Pathmeda village is said to be one of the biggest in the country with nearly 10,500 cows. "It rained for 3-4 days continuously due to which the cows got weak and became grounded. In such cases, they can't get up and have to be lifted up. In fact, their fodder had also turned mushy because of constant rain," said Mr. Ballabh. According to him many cows died of weakness and starvation.
The officials of the Jalore district administration said that teams have been rushed to cow shelters for providing medical aid to the ailing cows. "Medical teams of the animal husbandry department have been sent to Pathmeda and its branches at Golasan and Nandgaon for treating the cattle," Ratan Lal Lahoti, Divisional Commissioner, Jodhpur informed.