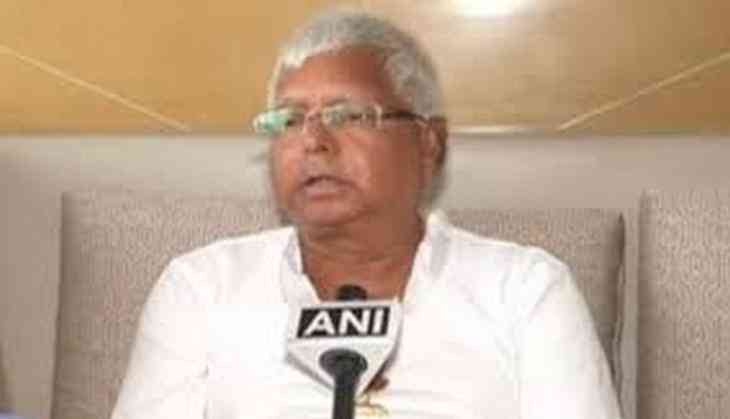 Rashtriya Janata Dal (RJD) chief Lalu Prasad Yadav on Thursday lashed out at Bihar Chief Minister Nitish Kumar, saying he is considering a move to appeal in the Supreme Court against the Governor's decision to allow the Janata Dal (United) (JDU)-Bharatiya Janata Party (BJP) to form a government the state.
"Nitish Kumar has betrayed us. These leaders will do anything for power. I am considering to appeal against the Governor's decision of allowing JDU-BJP to form the government," Lalu Yadav told media here.
He termed Bihar chief minister as a huge opportunist.
"The mandate was against the BJP, to throw out Modi-Shah out of Bihar. I worshipped Nitish Kumar like Lord Shiva, but he turned out to be Bhasmasur.He said he would do anything but join hands with BJP," Lalu Yadav said.
The RJD chief claimed the CBI cases against him and his family are part of a conspiracy hatched by the BJP and Nitish.
"It is sad that there is no Bapu in the country today. BJP worship's Mahatma Gandhi's killers and now Nitish has joined hands with them which is very unfortunate. I had no greed in my heart, else why would I nominate him as the chief minister," he asserted.
Kumar earlier today took oath as Bihar Chief Minister.
BJP leader Sushil Kumar Modi also took oath as Bihar Deputy Chief Minister.
Bihar Governor Kesrinath Tripathi administered oath to Kumar and Modi at Raj Bhavan.
This is the sixth time, when Nitish has taken oath as the Bihar Chief Minister.
With this, the political uncertainty in Bihar that loomed on Wednesday after Kumar's resignation has ended.
Bihar witnessed heated political environment soon after Nitish Kumar resigned on Wednesday as Bihar Chief Minister to protest against his Deputy and Rashtriya Janata Dal (RJD) Supremo Lalu Yadav's son Tejashwi Yadav's stubbornness to stay in the Cabinet despite being named in FIR over the corruption charges.
However, Tejashwi has put onus on Nitish and Bharatiya Janata Party (NJP) for the latest political development in the state.
Tejashwi said that political vendetta against him exposed the Opposition's viciousness.
"I delivered manifolds than what was expected of me. My performance perturbed our ally & BJP. Vendetta against me exposes their viciousness," he tweeted.
The RJD on Thursday morning was forced to cancel its protest march to Raj Bhavan to oppose Kumar's swearing-in ceremony due to the probationary orders.
-ANI