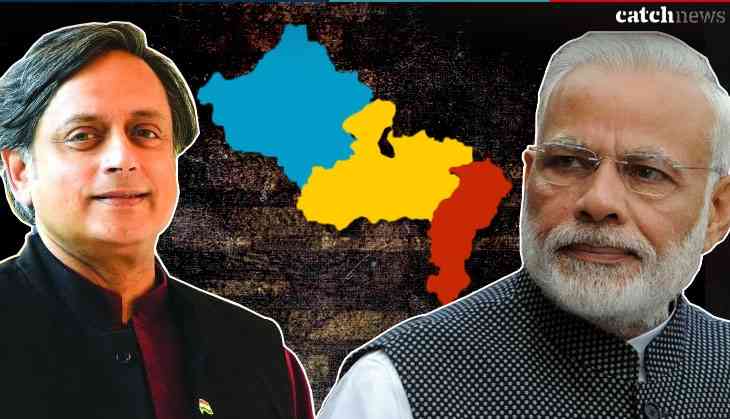 A fresh ABP-CVoter opinion poll released ahead of Assembly elections in Rajasthan, Madhya Pradesh and Chattisgarh scheduled by the end of the year have emerged as a wake-up call for PM Narendra Modi-led BJP government. Congress' Shashi Tharoor took a dig at PM Modi on the latest opinion poll that shows the Congress will sweep the BJP government in all the three states by getting the majority of votes that will weaken BJP government.
Senior Congress leader and Thiruvananthapuram MP Shashi Tharoor on Tuesday mocked PM Modi-led government asking if it was the beginning of the end for the Bhartiya Janta Party government after opinion predicted it as the upcoming debacle of the saffron party in the three states assembly polls.
According to CVoter survey conducted by ABP news, the BJP is likely to lose in all three upcoming Assembly polls in Rajasthan, Madhya Pradesh and Chhattisgarh. ABP and CVoter released the opinion poll on Monday evening. The survey was reportedly conducted between 1st June to 10th August 2018 by the ABP-Cvoter.
It is to be noted that all the three states---- Rajasthan, Madhya Pradesh and Chattisgarh are ruled by the BJP. Rajasthan under Vasundhara Raje, Madhya Pradesh under Shivraj Singh Chouhan and Chhattisgarh under Raman Singh. All the three states are scheduled for the assembly polls in the 2018 months before the Lok Sabha Elections that is scheduled for the next year.
Winning and losing the assembly polls will, directly and indirectly, affect both the ruling party---BJP and opposition party--- Congress. The PM Modi-led BJP government took 10 years to unseat the Congress from the Centre. Hence, it is very important for the Saffron party to win all the assembly polls ahead of the 2019 Lok Sabah Elections that are scheduled for the April-May of the next year.
Moreover, the Modi factor would help the party's fortunes in the 2019 Lok Sabha elections in the three states, a survey conducted by CVOTER and ABP news predicted.
Also read: ABP News-C voter survey: Congress will rule over Modi-led BJP government in Rajasthan, MP and Chhattisgarh in Assembly Elections 2018