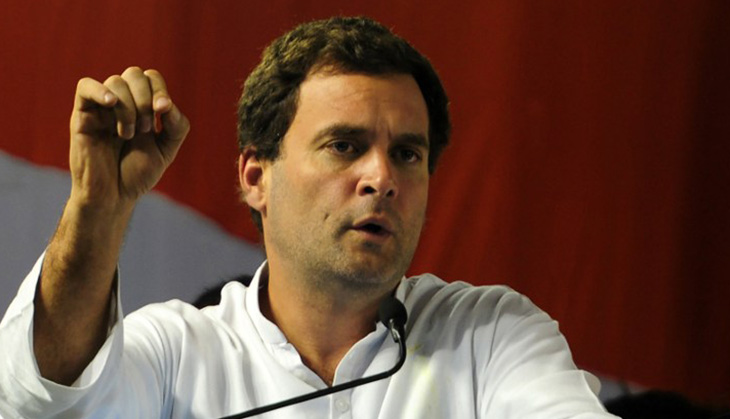 An FIR was registered against two members of the housekeeping staff of a high-rise building in Ghaziabad on Wednesday after a police verification form bearing the photograph and details of Congress vice president Rahul Gandhi showed up in the building.
The form, used by the police to verify the details of domestic help, tenants and drivers, showed Gandhi as working as domestic help at three flats in the building, according to the Hindustan Times.
Gorakhnath Yadav, station house officer of Indirapuram Police Station said: "The resident told us that he had given the tenant verification form to two housekeeping staff of the society, Raju and Akash, for submission. Investigations have revealed that these two must have manipulated the form."
According to the form, Rahul Gandhi's official address is 12, Tughlak Lane, New Delhi. The form has two police stamps that show the verification was done by officials of the Shipra Sun City police post under the Indirapuram police station.
The form was found on Wednesday by the apartment owners' association.
"We had asked the residents to submit the police verification forms of their domestic helps last week. We found the form bearing Rahul's photo when we were going through the collected forms on Wednesday evening. The form has the flat number and the phone number of the employer," said Mohit Misra, member of the AOA.
The form shows Gandhi's marital status as 'unmarried' and occupation 'politics'. His father's name is 'late Rajiv Gandhi.' Though the flat owner's name, Arun Sharma, and details are mentioned, Sharma says he did not submit this form.
"Someone is trying to malign us. I have the original copy of the verification form submitted to the AOA, bearing the details of our domestic help. The handwriting in the second section of the form matches my wife's. Someone has photocopied our form in colour and pasted it below the fake form bearing Rahul Gandhi's details," said Sharma.
Officials of the Ghaziabad police also claim the form had been tampered with. SP of Ghaziabad police Salman Taj said: "The stamp on the form bearing Rahul Gandhi's photo is fake and not the one used by police. Someone prepared a fake police stamp. Someone is trying to show that the police do not follow procedure to verify these forms."