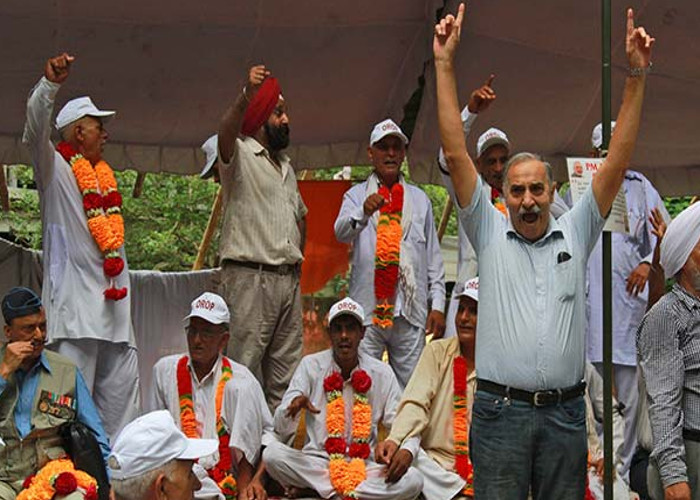 After the One Rank One Pension scheme was announced by Defence Minister Manohar Parrikar today, the Congress party said that it was a betrayal of ex-servicemen.
Former Defence Minister A K Antony charged the government with doing politics over OROP, "substantially diluting" its provisions and "ridiculing" ex-servicemen.
Attacking the government's decision to keep out of OROP those ex-servicemen who had opted for VRS, he said it was sad because 90 per cent of service personnel retire between 35 to 40 years of age, losing lakhs of rupees.
"There is no comparision of those in Defence forces with those in other services", Antony told reporters here.
Former Union Minister Kapil Sibal said that Congress was against the provision of revision of pension every five years announced by the government. He also faulted it for not adhering to the equalisation principle.
Antony took exception to Defence Minister Manohar Parrikar's remarks that OROP was being implemented for the first time in four decades by his government.
"The Defence Minister is doing politics," he said insisting that UPA government had announced acceptance of OROP last year and had even provided a token amount of Rs 500 crores and constituted an expert committee.
Replying to a question as to what was the estimate of the financial impact of the erstwhile UPA on its acceptance of the OROP demand, Antony merely said that an expert committee was constituted.
Asked whether government's decision has opened up a Pandora's box as OROP announcement would lead to demands from other central security forces, Sibal said that the party would react only after the Prime Minister makes his stand clear in the matter.
He steered clear of a question whether Congress would participate in a rally being called by the agitating ex-servicemen in the national capital soon.
Both Antony and Sibal targeted Prime Minister Narendra Modi recalling that he had promised OROP in toto within 100 days of coming to power.
-PTI