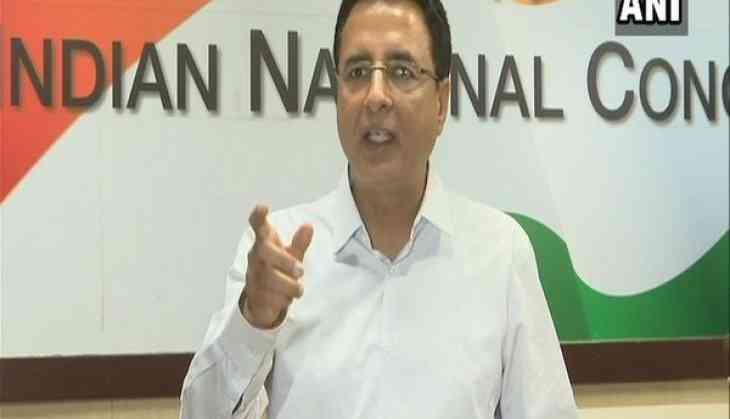 The Congress Party on Wednesday refuted fake voter ID cards allegations leveled by the Bharatiya Janata Party (BJP) and alleged that the flat the documents were recovered from, belonged to a BJP leader.
Addressing the media here, Congress leader Randeep Surjewala claimed that Manjula Nanjamuri, who owned the flat from where the identity cards were recovered, is a BJP leader and an ex- corporator.
He alleged that the Nanjamuri rented her own flat to his son Rakesh, who contested corporation election on a BJP ticket in 2015.
"The BJP enacted this drama in an apartment belonging to their own leader, Manjula Nanjamari. She has rented the apartment to her son who contested the 2015 BBMP Elections on a BJP ticket," Surjewala said.
The Congress leader also claimed that the apartment was not raided by police or the official of the Election Commission but by BJP worker.
He further said that the BJP is seeking attention by leveling allegations ahead of May 12 polls.
"BJP is doing midnight drama as if Congress has something to do in the recovery of these 9746 Voter ID cards," he said.
He termed the entire incident a part of a conspiracy by the BJP, in which they stand exposed.
Surjewala even showed the list of the BJP candidates of BBMP elections, while addressing the media, in which Rakesh's name was mentioned from Jalahalli ward.
"On Sl. No 16 is the name Rakesh from Jalahalli ward. Is this not proof that Rakesh is in BJP?" he said.
The Congress party even demanded a high-level inquiry by the Election Commission against those indulging in the "conspiracy to get the election countermanded by planting fake evidence."
Surjewala further asserted that the BJP is running a factory of lies and the party's drama has been exposed.
He even hit out at the Union Minister Prakash Javadekar and said that he had the "audacity to lie by saying Manjula Nanjamari and her son Rakesh don't belong to the BJP."
Earlier, Javadekar said that Nanjamuri has nothing to do with the BJP and she left the party six years ago.
"Manjula is a Congressperson now. They just want to blame BJP without any substance. We have proof of various things, which we will present before the EC," said Javadekar.
The Election Commission of Karnataka, in a midnight press briefing on Tuesday, confirmed that they have recovered 9,746 Electors Photo Identity Card (EPIC) from an apartment in Bengaluru's Jalahalli area of Raja Rajeshwari Nagar constituency.
(ANI)