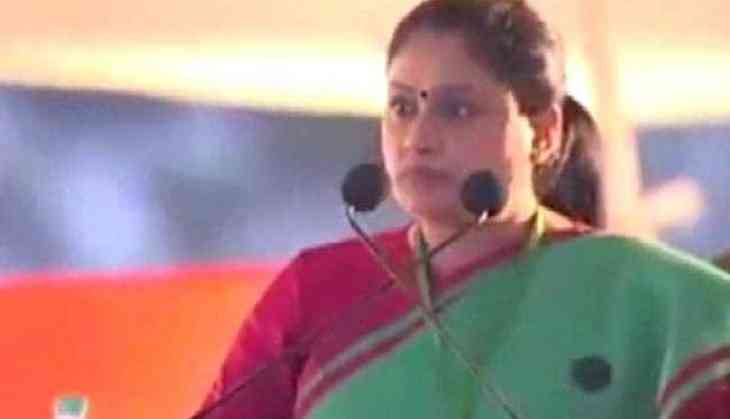 Telangana Congress leader Vijaya Shanti on Saturday delivered a hugely controversial remark on Prime Minister Narendra Modi in the presence of party chief Rahul Gandhi. Congress party's star campaigner Vijaya Shanti compared PM Narendra Modi to a terrorist.'
Speaking at a rally in Telangana's Shamshabad in which party president Rahul Gandhi was present, the actress-turned-politician Vijaya Shanti said, "Every person is scared of which bomb Modi will drop at which minute. He is appearing like a terrorist. Instead of loving his people, he is scaring them. This is not a characteristic of a Prime Minister," referring to decisions like demonetisation.
Vijaya Shanti, Congress in Shamshabad, Telangana: Everyone is scared that at what moment Modi will shoot the bomb. He looks like a terrorist. Instead of loving people, he is scaring people. It's not the way how a PM should be. pic.twitter.com/1pDEvYHXH8

— ANI (@ANI) March 9, 2019
Rahul Gandhi at the same rally alleged that Modi was making "two Indias" - one for the poor and the other for wealthy and rich people. "Since last five years, he [Modi] is making two Indias - one is of wealthy people like Anil Ambani who travel in private planes and achieve what they like. While in second India, farmers beg with folded hands for loan waiver while Finance Minister Arun Jaitley says that there is no policy of waving farm loans," the Congress chief said.
Rahul Gandhi also claimed that Telangana Chief Minister K Chandrashekar Rao is being "remote controlled" by PM Modi.
Earlier during 2017 Gujarat elections, veteran Congress leader Mani Shankar Aiyar called the Prime Minister "neech". Following which 77-year-old leader was rebuked by Mr Gandhi and suspended from the Congress for eight months.
Also reaD: Raj Thackeray warns another 'Pulwama-like attack may happen before Lok Sabha polls