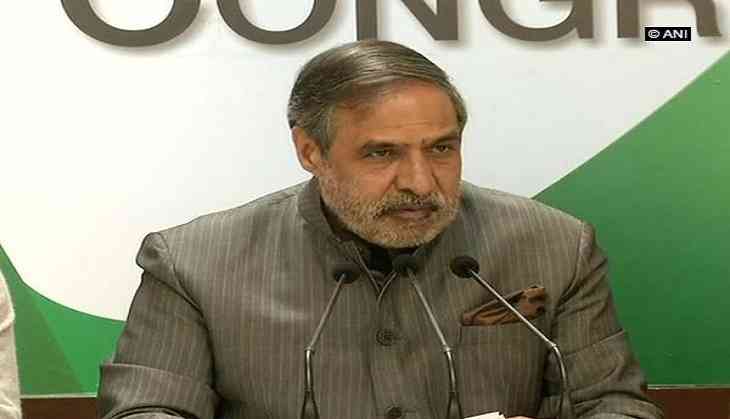 The Congress party on Monday attacked Rashtriya Swayamsevak Sangh (RSS) Chief Mohan Bhagwat over his controversial remarks on the Indian Army, further demanding his apology.
Senior Congress leader Anand Sharma tore into the Sangh for "insulting" the Indian Army, and further termed RSS chief's statement "shocking."
Addressing a press conference here, Anand Sharma said, "RSS chief is giving objectionable and upsetting remarks at a time when the terrorists have attacked the Central Reserve Police Force (CRPF) camp in Srinagar's Karan Nagar."
The leader of the grand old party demanded an apology from the RSS Chief for "disrespecting" the tricolor and Indian Army.
"RSS chief has committed a mistake and it should be rectified at the earliest because it is not in the interest of the nation," Sharma said.
Bhagwat had said that workers of his organisation can be trained in three days if need arises, whereas the Army takes 6-7 months to become capable enough to defend country's borders.
Holding the Prime Minister accountable, he said that the former should make his stand clear as Bhagwat has raised questions on the capability of the Army.
"Does he (PM) want to hand over the charge of nation's security to RSS", Anand Sharma asked.
Earlier in the day Congress President Rahul Gandhi tweeted on the same, saying,, "The RSS Chief's speech is an insult to every Indian, because it disrespects those who have died for our nation. It is an insult to our flag because it insults every soldier who ever saluted it. Shame on you Mr Bhagwat, for disrespecting our martyrs and our Army, #ApologiseRSS," he tweeted.
Meanwhile, RSS, clearing their stand on Mohan Bhagwat's remarks, said that his speech was being misrepresented, Akhil Bharatiya Prachar Pramukh, Manmohan Vaidya, read, "Bhagwat ji had said that if situation arises and the Constitution permits, Indian army would take six months to prepare the society whereas Sangh Swayamsevaks can be trained in three days, as Swayamsevaks practise discipline regularly."
While the Congress party slammed the RSS Chief's statement, the Sangh Parivar cleared their stand by saying that their Chief's statement has been misrepresented.
-ANI