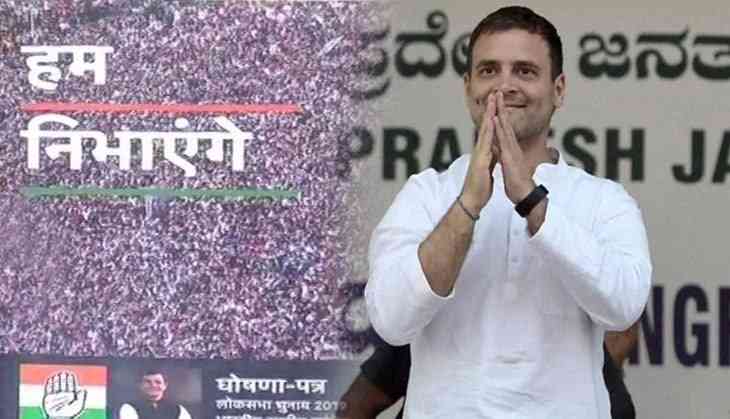 Rahul Gandhi and Congress Manifesto
As the 2019 Lok Sabha election is less than two weeks away, the Congress party has announced its manifesto for the polls and have named it 'Jan Awaaz.'
Here are 10 points you need to know about the election manifesto, which is termed as 'We will deliver'.
The NYAY scheme, wherein a Minimum Income Guarantee of Rs 72,000 will be offered to the 20% poorest household every year.

In the jobs sector, Congress has promised to fill 4 lakh central government vacancies and will persuade the state governments to fill their 20 lakh vacancies.

To omit the Section 124A of the IPC that defines the offence of Sedition.

A separate budget for the farmers, named 'Kisan Budget' will be announced every year and will establish a permanent National Commission on Agricultural Development and Planning. Farmers who aren't able to pay back loans will not be considered as criminal rather a civil offence.
Delhi: Congress party releases their election manifesto for #LokSabhaElections2019 pic.twitter.com/fccNKOuSqZ

— ANI (@ANI) April 2, 2019
5. In health care sector, the party has said to double the expenditure to 3% of GDP by 2023-24 and to enact a Right to Healthcare Act and provide free diagnostic, out-patient care, free medicines and hospitalisation through a network of public hospitals.
6. To double the allocation for Education to 6% of GDP by 2023-24 and give free school education from Class 1 to Class 12.
7. Congress has also promised to pass Women Reservation Bill and reserve 33% of seats for women in the Lok Sabha and State Legislative Assemblies.
8. In the Armed Forces and Paramilitary Forces, the Congress has said to amend the Armed Forces Special Powers Act.
9. For the Adivasis, the Congress has promised to implement the Forest Rights Act, 2006 and secure the rights guaranteed under the Act for the Scheduled Tribe.
Also read: Congress releases manifesto for 2019 polls, Rahul Gandhi announces separate budget for farmers