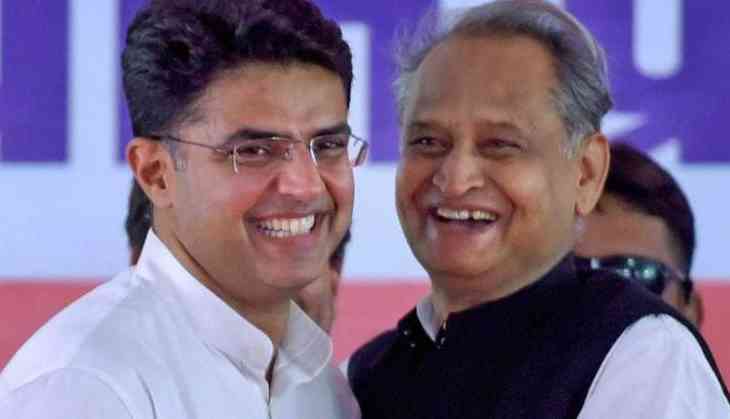 Sachin Pilot and Ashok Gehlot
After clinching a victory from the mouth of BJP, the Congress party yesterday allotted the ministries in Rajasthan which had the flavor of 2019 polls.
Today, 23 ministers will be taking oath after the tussle over who will be the chief minister was settled with the high command giving preference to the old guard Ashok Gehlot over the young turk and Rajasthan Congress chief, Sachin Pilot.
The Congress which won 99 seats in the assembly elections has also given a cabinet rank to the lone MLA Subhash Garg of Rashtriya Lok Dal, which is an ally of the Congress party in Rajasthan. Rahul Gandhi is pretty clear about the role of the allies in 2019 polls.
Rahul Gandhi is trying to balance out the power equation in the much divided assembly of the desert state, where the Congress party is seen to include some former ministers but all the new lawmakers have been dropped. Although, senior ministers like CP Joshi, Bharat Singh and former speaker Dipendra Singh have been kept out of the cabinet.
A woman, Mamta Bhupesh, will also be given a rank of Minister of State and former royal of Bharatpur, Maharaja Vishwendra Singh has also been included in the ministers rank.
But, 18 out of 23 ministers will be the first timers in the cabinet and Congress leaders, while clearing out the caste equations have said, 'there are two Rajputs, two Vaishyas or members of the business community, one Muslim, four Jats, three Scheduled Tribes, four Scheduled Castes, three representing Other Backward Classes and one Gujjar,' as reported by the NDTV.
Also read: PM Modi releases commemorative Rs 100 coin in memory of former PM Atal Bihari Vajpayee, ahead of his birthday