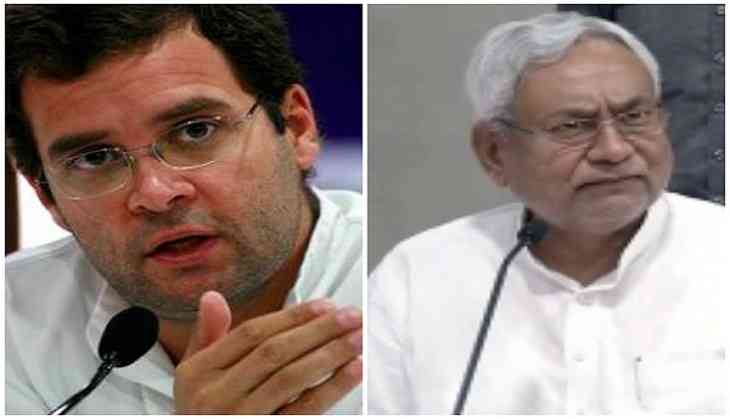 The Congress on Thursday questioned the integrity of Nitish Kumar and the intentions of the Bhartiya Janata Party (BJP) and accused them of having political ideologies - oppotunism, treachery and the likes - which might harm the state.
The Congress has released a statement which stated that Nitish Kumar's hunger for power has overpowered everything else.
The statement also questioned Prime Minister Narendra Modi's decision to form a government with Nitish Kumar, having previously questioned his 'political DNA'. It said that the Janata Dal (United) (JD(U)) and the BJP share similar political ideologies like opportunism, treachery, hunger for power and disregard of people's mandate.
The statement added that this decision was an insult to the people of Bihar who had rejected the leadership of the BJP in favour of the 'Mahagathbandhan'.
The Congress also compared Bihar's situation to that of Goa and Manipur.
"People's will was brutally rejected by the BJP in Goa and a party defeated by people in Goa forcibly formed the government," the statement read.
Bihar saw a major midnight political drama soonafter Nitish Kumar resigned on Wednesday as Bihar Chief Minister to protest against his Deputy and Rashtriya Janata Dal (RJD) Supremo Lalu Yadav's son Tejashwi Yadav's stubbornness to stay in the Cabinet despite being named in an F.I.R. over the corruption charges.
However, Tejashwi put the onus on Nitish and the Bharatiya Janata Party (BJP) for the latest political development in the state.
Tejashwi said that political vendetta against him exposed the Opposition's viciousness.
"I delivered manifold than what was expected of me. My performance perturbed our ally and the BJP. The vendetta against me exposes their viciousness," he tweeted.
The RJD on Thursday morning was forced to cancel its protest march to Raj Bhavan to oppose Kumar's swearing-in ceremony due to the probationary orders.
-ANI