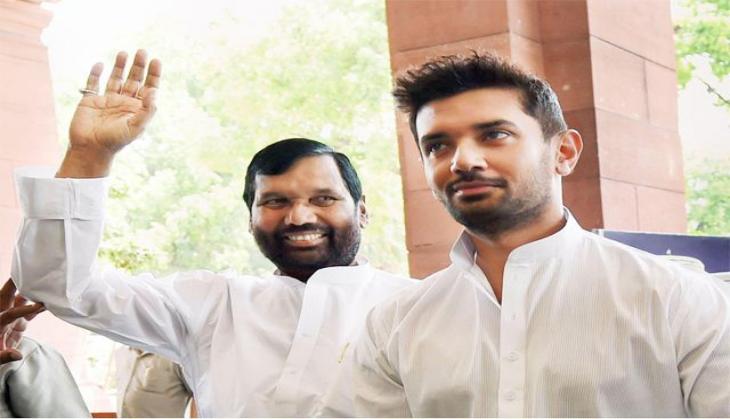 Lok Janshakti Party (LJP) leader Chirag Paswan has carved the way for a new political debate by suggesting that prosperous Dalits should stop availing benefits of reservations.
Justifying his statement, the son of LJP chief and union minister Ram Vilas Paswan said that this move will allow poor families to avail maximum benefits of reservation.
He told TOI, "In my opinion, people coming from decent financial background should leave reservation. That will help others from their community avail the opportunity to grow and do better. Actually, those who are in dire need of reservation will get the maximum benefit."
The first-time MP from Bihar also talked about the emergence of a casteless society and said that it is going to be his "ultimate goal" adding that he comes from "Bihar where caste scenario dominates politics. UP and Bihar will have to play a key role to achieve this goal."
Twitter backed Paswan's statement as many tweeted in support.
Here are some of the tweets:
#Chirag Paswan Well off dalits who have all the resources are now blocking the benefits of reservation reaching the downward

— kamal Kishore Anand (@Anand952K) April 12, 2016
Agree with Chirag Paswan that "prosperous" Dalits shud give up quota. The benefits shud trickle down to the real needy ones at the bottom.

— :DeepaK (@DeeCosmos) April 12, 2016
Chirag paswan's view is 100% correct.I appreciate his boldness in telling the truth on reservation to rich people from OBC and SC ,ST

— ajith kumar v r (@ajithkumarvr) April 12, 2016
It's really rare to hear sensible comments from politicians ... BT this time chirag paswan have said something out of the box ...

— deepak (@imdeep11) April 12, 2016
Welcome Chirag Paswan's statement that Rich SC ST OBC shud voluntarily give up reservations Requires loads of Courage. Hope it sets a trend.

— VIKRAM (@rathorevikram) April 12, 2016
Superb thought by Chirag Paswan said that rich people belonging to SC/ST/OBC class should give up their reservation right 👍👏

— Niraj S. (@nirajntsh) April 12, 2016