Children's Day, 14 November, is marked by celebrations across India every year.
This year, however, Children's Day comes bearing a massive cloud of gloom. In the six days leading up to 14 November 2016, a large number of underprivileged children who live on the streets of India found themselves on the receiving end of an unprecedented sort of generosity.
The sudden bout of large-heartedness was a direct fallout of Prime Minister Narendra Modi's announcement on 8 November, banning currency denominations of Rs 500 and Rs 1000. The move put a number of Indians in a tizzy, with many choosing to dispose off their excess notes by giving them away to pavement-dwellers.
Street children, who make a living by either begging or selling knick-knacks by the roadside, were in for a surprise as a number of seemingly well-to-do people stopped their cars, rolled down their windows and handed over currency notes of Rs 500 and Rs 1,000.
Dear homeless child, here's a Rs 500 note
This week, you may have spotted news items about people burning or disposing off notes of Rs 500 and Rs 1000. If you thought that these people should have handed out their excess notes to the poor instead, then you're in for a shock.
This Children's Day, take a moment to fathom the sheer audacity of those who thought it would be okay to hand over denominations of the now-invalid Rs 500 and Rs 1000 notes to street children who are unaware of the new RBI rules.
Most of these children have no homes to call their own, and rely on their meager earnings to feed themselves.
In their hurry to get rid of their excessive money, some of those passing by paid Rs 500 and above for balloons, pens and the other wares peddled by these children - which usually cost anywhere between Rs 5 to Rs 20.
Imagine the joy in the eyes of the children who received these notes. These children, who are forced into begging or selling items like flags and balloons on the streets, readily accepted these notes, only to realise much later that they held no value. Some people also asked these children to exchange their Rs 500 notes for change.
How far would you go to get rid of your black money?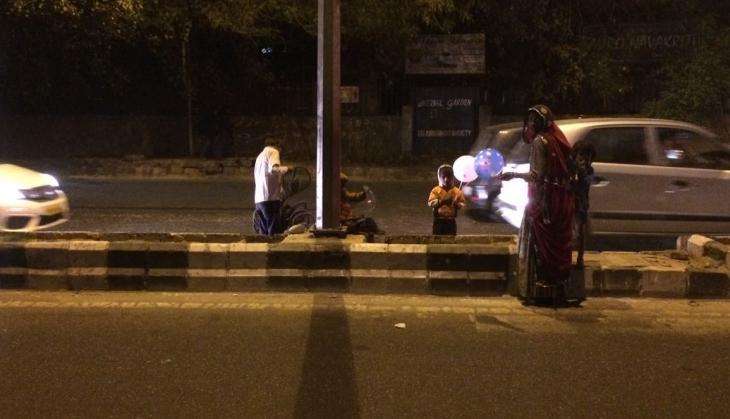 Photo: Nishant Saxena/Catch News

According to reports, there are approximately 50,000 children in the National Capital alone, who survive on alms and food distributed at religious places, traffic signals etc.

The Chetna Foundation, a non-governmental organisation that is dedicated to caring for street children in the Capital had some startling figures to offer. Chetna currently looks after around 200 street children, who live on the roads around IIT-Delhi, Moolchand and Defence Colony.

One of these pavement-dwelling minors, Kailash (name changed), a child who sells balloons at a traffic signal in these areas, narrated his ordeal in the days following the demonetisation announcement.

"Mai jab gubbara bechne gaya toh gaadi waale ne mjhe 500 ka note diya or kaha 4 gubbare de do, maine kaha khule nhi hai toh usne kaha 4 or de de or 500 rakhle. (I was selling balloons when a man in a car stopped and gave me a Rs 500 note for 4 balloons. When I told him that I did not have change, he asked me to give him four more balloons and told me to keep the change.)

"Mujhse log 500 ka khula maang rahe the mjhe bada ajeeb laga ( People were asking me for change of Rs 500. It was strange), said another child.

"Mera do din se samaan nahi bika, mere paas khaane ke paise nhi hai. (I haven't sold anything for two days. I don't have money to buy food), said Sawli (name changed).
No respite in sight: Paying for your misdeeds
PM Modi's war against black money has proved costly for Kailash, Sawli and the many other street children who are forced to sleep hungry. Not only are these street children now deprived of the smaller amounts that they survive on - in the form of alms - but to add to their woes, they are now straddled with notes of Rs 500 and Rs 1000 that hold no value anymore.
"These kids do not have any identity proofs which can help them convert the big denominations that they have been given," Sanjay Gupta, director of Chetna Foundation told Catch.
"Seeing how the children were confused, Chetna initiated a drive to explain to children this change in the currency system and is keeping a constant eye on the situation and distribute food to 200 street children everyday till it gets better," Gupta said.