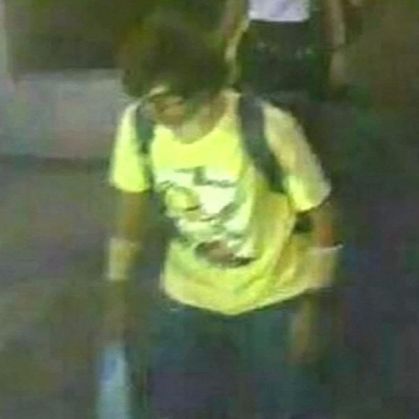 Thai Police has released CCTV images of a person suspected to be involved in the bomb blast in a temple in Bangkok that killed 27 people.
The images, captured on CCTV near the Erawan Hindu Shrine shortly before the bomb detonated at around 7pm on 17 August shows a young man wearing glasses and dressed in a yellow T-shirt. The picture has been widely circulated online.
"That man was carrying a backpack and walked past the scene at the time of the incident. But we need to look at the before and after CCTV footage to see if there is a link," The Independent quoted National police chief Somyot Pumpanmuang as saying.
Thai Army chief Gen Udomdej Seetabutr told local media that security officials had obtained video footages at the bomb explosion scene which clearly showed a suspect carrying a bag into the scene before it went off.
He did not elaborate the nationality of the suspect but said the bomb attack might be a retaliation to the recent operation of the Thai government. He said security officials are following the case closely.
He had earlier said the tactics used in the blast did not match the Muslim separatist rebels in the country's south.
However, Nation newspaper said police were looking for a suspect with an "Arab" look who was seen leaving a bag at the shrine shortly before the blast occurred at 7 pm on the evening of 17 August.
The man was seen on a security camera sitting on a bench in the compound of the shrine after leaving his bag behind the bench, the paper said. After a while, he was seen standing and making a call from his phone and walking fast from the area, it said. Thailand's baht currency slumped to a more than six-year low and shares fell in Bangkok after the blast.
The blast, which the government believed was aimed at damaging economy and tourism, occurred inside Erawan Shrine dedicated to Lord Brahma in the downtown Chidlom district. The temple is located on a main road through Bangkok's commercial hub and is surrounded by three major shopping malls and big hotels of international chains.
It is among Bangkok's most popular tourist attractions visited by East Asian tourists and local Buddhists.
Authorities today put the death toll at 20, revising an earlier toll of 27. The dead includes two Malaysians, two Taiwanese, two Singaporeans, a Hongkongnese, and the rest Thais. Most of the injured foreigners are Chinese. However, there were no reports of any Indian casualties or injury in the blast, the first such attack in the Thai capital.