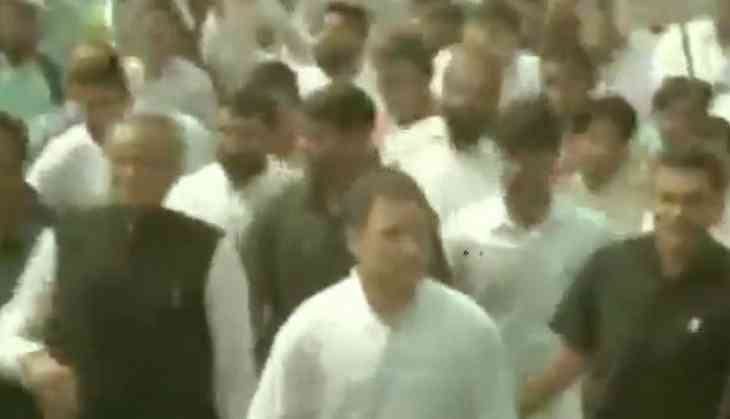 Congress protests at CBI office
After the battle within the CBI, the Opposition party's have led a march to stage protest against the removal of CBI director Alok Verma, who was going to probe Rafale deal later on.
The Congress, Communist Party of India, Trinamool Congress have started their march against the governments move to send CBI director on leave and the protest is being headed by Congress president Rahul Gandhi himself.
The Congress chief had earlier tweeted saying, "Join us today at 11 AM as we march from Dayal Singh College on Lodhi Road to the CBI HQ, to protest the PM's disgraceful & unconstitutional attempt to block an investigation into the Rafale scam by removing the CBI Chief. Similar protests are being held today, across India."
TMC general secretary Partha Chatterjee said, ""We have been witnessing a series of events that have taken place in the CBI in the last few days. It seems like BJP, which itself is a corrupt political party, is trying to stop corruption in CBI. This is ridiculous."
"CBI has now become so called BBI (BJP Bureau of Investigation) — very unfortunate, the series of events proves that CBI is being controlled by the BJP to serve its own political purpose. Officers are removed and appointed in CBI at midnight," Mr Chatterjee tweeted.
Congress's Anand Sharma, CPI's D Raja and Sharad Yadav outside Dyal Singh College, ahead of the protest march to CBI HQ against the removal of CBI Director Alok Verma, ANI had tweeted.
The CBI has been at the loggerheads since last year when both No 1 and No 2 had approached the CVC with their respective complaints.
Also read: Supreme Court allows CVC to probe in director Alok Verma's case; orders to complete
#WATCH Congress President Rahul Gandhi and Ashok Gehlot lead the protest march to CBI HQ against the removal of CBI Chief Alok Verma. pic.twitter.com/7FNkhoWQCb

— ANI (@ANI) October 26, 2018
Delhi: Congress's Anand Sharma, CPI's D Raja and Sharad Yadav outside Dyal Singh College, ahead of the protest march to CBI HQ against the removal of CBI Director Alok Verma. pic.twitter.com/JhkhO3WER9

— ANI (@ANI) October 26, 2018