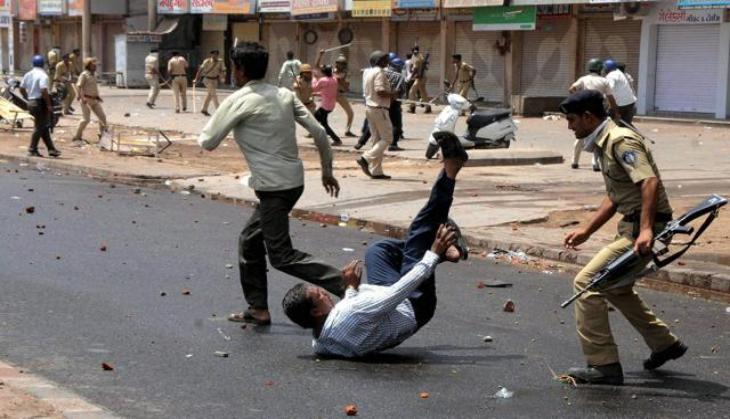 Two Gujarati films based on Hardik Patel and the Patidar stir are battling the Central Board of Film Certification which has recommended more than a hundred cuts in one of the movies.
Hardik Patel has been jailed on charges of sedition for leading an agitation in Gujarat last year for reservations for the Patidar community.
The CBFC wants 100 cuts in the film Salagto Sawal: Anamat (Reservation: A Burning Question), which highlights the "ill-effects" of caste-based reservations. It has told the filmmakers to drop the words "Patel" and "Patidar" and objected to the close resemblance of the film's lead actor to Hardik Patel, according to the Hindustan Times.
The film's director, Rajesh Gohil, has petitioned the board for a review of its decision. "By Monday, we will get an answer from CBFC, hopefully a positive one."
Gohil's troubles have led Deepak Soni, producer of another film titled Power of Patidar to invite Gujarat chief minister Anandiben Patel and minister of state for home Rajanikant Patel as well as opposition leader Shankersinh Vaghela to a private screening of his movie.
Soni said: "If they accept our request, we will show them our film. If they suggest any valid changes, we will do that and thereafter go for the CBFC certification."
Several Patel agitation leaders have acted in Soni's film and are featured in its songs, says the producer.
Director Mahesh Patel said: "Our film is the story of Hardik, the quota agitation and where the protesters went wrong. There is nothing in the film that will spark off a controversy or ignite the Patel stir once again. We will wait till Tuesday for the responses and then apply for the certification process."
A third film on the Patel agitation called Humme Haq Chahiye - Haq Se is being made in Hindi. "Our film is on the present system of education and employment and doing away with the quota system. It will be ready by July-end," said Himmat Ladumore, the producer.