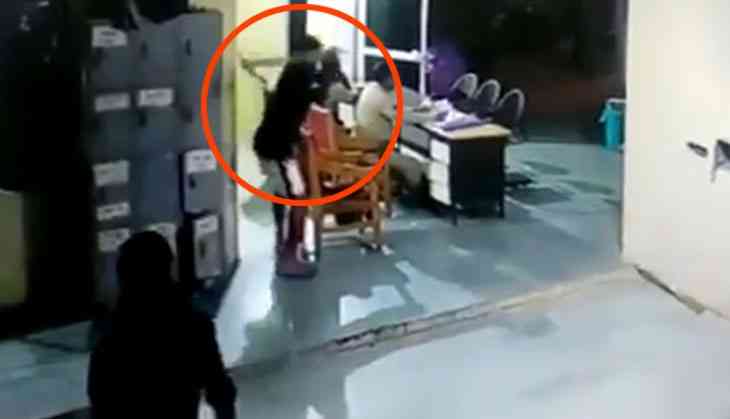 In a dramatic visual, an undertrial prisoner brutally and violently attacked two policemen in a police station in Bhind district of Madhya Pradesh. The horrific incident was caught on the CCTV camera installed inside the police station. The victims, prison guards are presently undergoing treatment after the dangerously violent assault. The incident took place on 9th September, Sunday.
News reporting agency ANI said that while one police officer is being treated at the Bhind district hospital, another had to be referred to a hospital in Delhi. The incident reportedly occurred on Sunday. The guards were said to be head constable Umesh Babu and Rambabu.
#WATCH Dramatic visuals of an undertrial prisoner viciously attacking two prison guards at a police station in Bhind on 9th September. One police personnel has been referred to Delhi for treatment, another is under treatment at a district hospital in Bhind (Source: CCTV footage) pic.twitter.com/eXEQ5eH51y

— ANI (@ANI) September 11, 2018
In the video, the prisoner, Vishnu Rajawat can be seen ferociously coming from behind the policemen and attacked them, while another man simply standing aside. It seems to be the partner-in-crime assisting him by probably giving him the signal.
The accused is seen carrying a plough and thrashed the police personnel using the same so violently that one of the guards fainted after being hit just once by the unidentified weapon.
According to the information, Vishnu Rajawat was involved in the illegal mining business and was arrested for the same. Vishnu sat quietly for some time after the arrest, but in a short while on the arrival of his partner, he attacked the policemen with him. At present, the police have arrested the accused.
Also read: Telangana Bus Accident: At least 45, including six children killed after bus falls into a valley in Kondagattu in Jagtiyal district