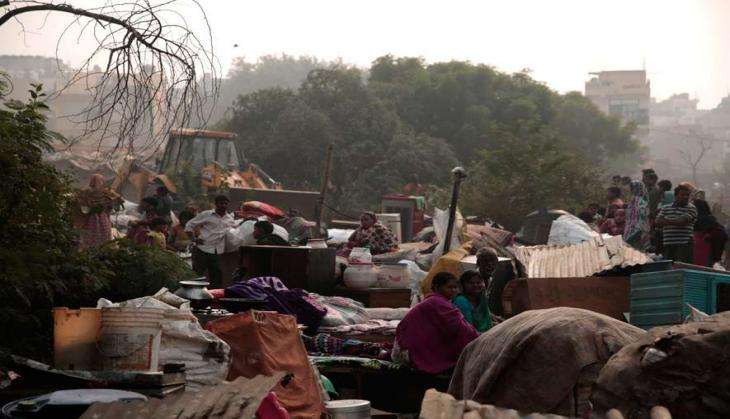 It has taken Delhi Chief Minister Arvind Kejriwal four days to finally wake up to the plight of around 3,000 slum dwellers left roofless in South Delhi's Mehrauli area, in this biting weather. Children and the elderly have been braving cold nights since 4 December, after their homes were bulldozed in a demolition drive.
On 7 December, after Catch News extensively covered the slums' demolition, CM Arvind Kejriwal said that deputy chief minister Manish Sisodia would visit the location.
Also Read: In pics: Homes bulldozed, slum-dwellers face bleak winter in Delhi's Mehrauli
He tweeted on Wednesday evening, "Have directed authorities to continue with tents n food. Manish sisodia will visit today. Also will examine why it was demolished at all."
Have directed authorities to continue with tents n food. Manish sisodia will visit today. Also will examine why it was demolished at all https://t.co/3jOp8PoBJQ

— Arvind Kejriwal (@ArvindKejriwal) December 8, 2016
Around 3,000 people in South Delhi's Mehrauli area witnessed their homes being reduced to rubble after a government order on 4 December.
Earlier, Catch had asked an AAP worker, who was conducting relief work in the area, why his party and its leader, Delhi Chief Minister Arvind Kejriwal, had not raised this matter with the South Delhi Municipal Corporation that demolished the slums and why was the relief material so scarce. The part worker's response was, "These jhuggis were not listed in the Jhuggi Jopdi clusters available with us. They seem to be illegal."
Sandeep, the secretary of AAP's Jhuggi Jhopdi Cell, had the same response. "There are 675 Jhuggi Jhopdi clusters listed in Delhi and unfortunately, this one isn't among them. We will help them on humanitarian grounds for now but beyond that we can't do much. We can't rehabilitate them."
Over the last three decades, the vacant piece of land next to the Mehrauli cremation ground had become home to 500 slums. Most people living there had migrated from West Bengal, and some from Bihar.
Also Read: Cold, hungry, homeless: the tragedy inflicted upon slum-dwellers of Mehrauli
"This land belongs to the Delhi Development Authority (DDA). We are following the orders passed by the Municipal Corporation of Delhi (MCD)," a police officer present at the scene told Catch.
The slum-dwellers claim they were not served any prior notice. They were not even given a chance to collect their belongings. The police officer refuted the accusation that the residents were not served eviction notices.
Just last year, a similar demolition drive had taken place in Delhi's Shakurbasti. At the time, the Delhi High Court had instructed the railways to stop the drive. But the Mehrauli slum-dwellers have had no such luck - the drive continued through Monday and Tuesday.
All these families had valid documents to prove their citizenship but were still left scratching their heads to understand what suddenly turned the government against them and their homes.
"These leaders come to us with folded hands seeking votes during elections. But the same leaders demolish our houses as soon as they come into power," lamented one of the women gathered around. Perhaps a sentiment echoed by the others rendered homeless as well...
-with inputs from Suhas Munshi and Vikas Kumar