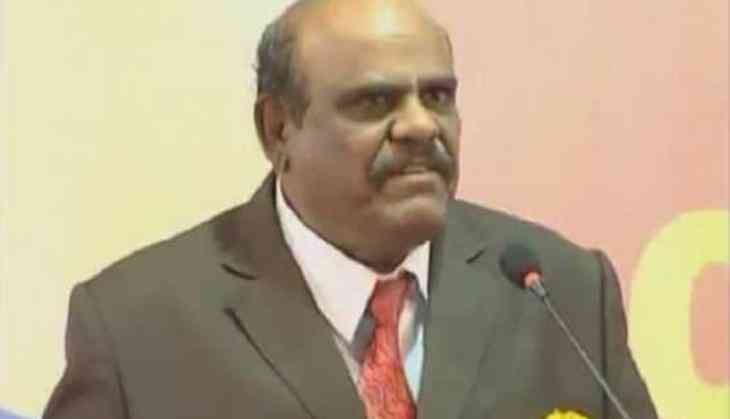 Controversial Calcutta High Court judge Justice C S Karnan on 31 March appeared before the Supreme Court which granted him four weeks' time to respond to the contempt notice while rejecting the submission that his administrative and judicial powers be restored.
After his requests to have his work restored were denied by the top court, Karnan said that he will not appear before the court next time. He reportedly dared the court to arrest him.
A seven-judge bench headed by Chief Justice J S Khehar took note of personal appearance of Justice Karnan, a first in the history of Indian judiciary, and asked him to respond to the allegations leveled against various judges in his several communications.
At the outset, the bench, also comprising Justices Dipak Misra, J Chelameswar, Ranjan Gogoi, M B Lokur, P C Ghose and Kurian Joseph asked Justice Karnan as to whether he was willing to tender an unconditional apology and withdraw his earlier communications in which he had made allegations against various judges.
As Justice Karnan was not forthright in his response, the bench suggested him to take time and legal assistance in responding to the question.
Justice Karnan in his response, alleged discrimination and "social boycott" by companion judges on various grounds including his caste and said that even the Supreme Court issued the contempt notice and took away his administrative and judicial rights without hearing him.
"I made complaints to the Chief Justice of India and the Prime Minister. A suo moto contempt proceeding was initiated against me. Before hearing me, my work was withdrawn. My dignity has been hurt in the eyes of general public. I am also holding a Constitutional position. Do I have any respect or dignity?" Justice Karnan said.
After the alleged open contemptuous letters written by Justice Karnan against the Madras HC Chief Justice, addressed to the CJI, Prime Minister and others, the court had initiated proceedings against him.
--With PTI inputs