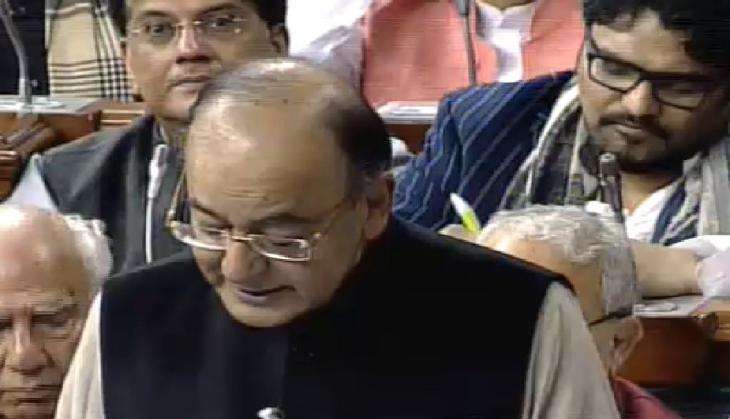 The Budget session of Parliament began on 1 February and the House presented obituary to former union minister and Indian Union Muslim League ( IUML) MP E. Ahamed, who lost his life at the RML Hospital in the national capital in the wee hours today after suffering from heart attack.
As the Opposition demanded the Budget to be postponed, the Lok Sabha Speaker Sumitra Mahajan said that the Budget will be announced today only as it is a constitutional obligation.
Here are the Live updates:
12: 59 pm: FM Arun Jaitley concludes his speech. Finance Bill introduced and Lok Sabha adjourned until Friday.
12: 51 pm: Surcharge of 10% for those whose annual income is Rs 50 lakh to 1 crore: FM Jaitley.
12: 50 pm: Propose to reduce existing rate of taxation of those with income between 2.5 lakh to 5 lakh from 10% to 5%: FM Jaitley.
12: 42 pm: Political parties continue to receive most funds through anonymous donations. Political parties will be entitled to receive donations by cheque or digital mode. Maximum cash donation any party can receive will be Rs 2000 from one source: FM Jaitley
12: 40 pm: No cash transactions above 3 lakhs, says Arun Jaitley
12: 36 am: Not to remove Minimum Alternative Tax in 2017-18. Propose to allow a carry forward of MAT for a period of 15 years as against 10 years now: Jaitley.
12: 35 pm: Five percent tax reduction for companies with annual turnover of less than Rs 50 crore.
12: 27 pm: Due to Demonitisation advance tax on personal Income tax increased by 34.8%: FM Jaitley.
12: 26 pm: There is an urgent need to protect the poor from chit fund schemes, draft bill placed in public domain: FM Jaitley
12: 25 pm: Out of 3.7 crore who filed tax returns in 2015-16, only 24 lakh persons showed income above Rs 10 lakh: FM Jaitley.
12 :24 pm: We are largely a tax non compliance society, when too many people evade taxes burden falls on those who are honest: FM Jaitley
12: 22 pm: Fiscal Deficit target for 2017-18 is 3.2%, 3% for 2018-19: FM Jaitley.
12: 19 am: Total resources being transferred to the states & union territories with legislature is Rs 4.11 lakh crore: FM Arun Jaitley.
12: 18 pm: Defence outlay (excluding pensions) at Rs 2,74,114 crore.
12: 16 pm: Government considering introduction of new law to confiscate assets of offenders who escape the country: FM Jaitley.
12: 13 pm: Delhi and Jaipur to have solid waste management plants and five more to be set up later.
12: 12 pm: Chandigarh and eight districts of Haryana have been declared kerosene free.
12: 10 pm: BHIM app will unleash the power of digital payments. 125 lakh people have adopted BHIM app so far: Arun Jaitley
12: 08 pm: Propose to double the lending target of Pradhan Mantri Mudra Yojana and set it up at Rs 2.44 lakh crore for 2017-18: FM Arun Jaitley.
12: 07 pm: 3.5 Crore youth will be trained under Sankalp program launched by the government: FM Jaitley
12: 06 pm: Railway related state-run companies like IRCON and IRCTC to be listed on stock exchanges: FM Jaitley.
12: 02 pm: The Foreign Investment Promotion Board has been abolished.
12: 01 pm: Total allocation for infrastructure sector stands at a record level of Rs 3,96,135 crore: Finance Minister Arun Jaitley.
12: 00 pm: Airport Authority India Act to be amended: Jaitley.
11: 59 am: Selected airports will be taken up for development through PPP mode: Jaitley.
11: 59 am: Transport sector allocated Rs 2.41 Lakh Crore and Bharat Net Project allocated Rs 10,000 crore: FM Jaitley.
11: 57 am: Railways will integrate end to end transport solutions for selected commodities through partnership: FM Jaitley.
11: 57 am: By 2019, all coaches of Indian Railways will be fitted with Bio-toilets: FM Arun Jaitley
11: 56 am: At least 25 stations expected to be awarded during 2017-18. 500stations to be made differently abled-friendly by providing lifts and escalators: FM Jaitley.
11: 55 am: A new metro rail policy will be announced, this will open up new jobs for our youth: FM Jaitley
11: 54 am: Service charges on e-tickets on IRCTC will be withdrawn: Jaitley.
11: 53 am: Rail safety fund with corpus of Rs 100,000 crore will be created over a period of 5 years: FM Arun Jaitley.
11: 52 am: Steps will be taken to launch dedicated trains for pilgrimage and tourism: FM Jaitley.
11: 50 am: Two new All India Institute of Medical Sciences (AIIMS) to be set up in Jharkhand and Gujarat: FM Arun Jaitley.
11: 49 am: For senior citizens, Aadhar cards giving their health condition will be introduced: FM Jaitley.
11: 46 am: Safe drinking water to cover 28,000 arsenic & Fluoride affected habitations in the next four years: FM Jaitley.
11: 45 am: 100% village electrification will be achieved by May 1,2018: FM Jaitley.
11:40 am: For youth, proposed to introduce a system of measuring annual learning; Science to be given focus: FM Arun Jaitley.
11: 39 am: As Swami Vivekananda said 'education which does not help the common mass of people to equip themselves is it worth of the name?': FM Jaitley.
11: 37 am: Open defecation free villages are now being given priority for pipe to water supply: FM Jaitley.
11: 36 am: To complete 1,00,00,000 houses by 2019 for houseless and those living in kaccha houses: FM Jaitley.
11: 33 am: Total allocation for rural, agricultural and allied sectors for 2017-18 is Rs 187223 cr, which is 24% higher than last year: FM Arun Jaitley.
11: 31 am: Participation of women in MNREGA has increased to 55%: FM Arun Jaitley.
11: 30 am: Budget allocation to MGNREGA increased to a record Rs 48,000 crore for 2017-18, from Rs 37,000 crore in 2016-17: Jaitley.
11: 27 am: Target of agricultural loans to farmers set at record Rs 10 lakh crore in 2017-18:FM Jaitley
11: 26 am: Dairy processing infrastructure fund will be set up under NABARD, with fund of 8,000 crore: FM Jaitley
11: 25 am: Issuance of soil health cards have gathered momentum, will setup a mini lab in krishi vigyan kendras: FM Jaitley
11: 23 am: My approach in preparing the Budget is to spend more on rural areas, infrastructure and poverty alleviation with fiscal prudence: FM Jaitley.
11: 22 am: With better Monsoon, Agriculture is expected to grow at 4.1% in current year: FM Arun Jaitley.
11: 21 am: Uncertainty around commodity prices, especially around crude oil, one of the major challenges: FM Jaitley
11: 20 am: We are aware we need to do more for our people, our agenda is transform, energise and clean India, that is 'tech India': FM.
11: 19 am: Pace of remonetisation has picked up and will soon reach comfortable levels. Effects of Demonetisation not expected to spill over to next year, says FM.
11:18 am: Demonetization seeks to create a new normal where in the GDP would be bigger, cleaner and real: FM Jaitley
11: 18 am: Comments from ratings agencies show they expect growth to remain strong, despite short-term impact from demonetization: FM
11: 16 am: The advanced economies are expected to increase their growth from 1.6%-1.9% and emerging economies from 4.1%-4.5%: Jaitley
11: 16 am: DeMonetisation is a bold and decisive measure, for many decades tax evasion was a way of life for many: Jaitley
11: 15 am: India is seen as engine of global growth, have witnessed historic reform in last one year: FM Jaitley
11: 15 am: International Monetary Fund estimates that the world GDP will grow by 3.1% in 2016 and 3.4% in 2017: FM Arun Jaitley
11: 14 am: The focus will be on energizing our youth, to reap benefits of growth & employment: FM Jaitley
11: 09 am: We have moved from a discretionary administration to a policy-based administration: FM Jaitley
11: 08 am: Our government was elected amidst huge expectations of people, the underlying theme of expectations being good governance: FM Jaitley
11: 06 am: The government is now seen as a trusted custodian of public money, I express gratitude to people for their strong support: FM Jaitley in Lok Sabha.
11:04 am: Finance Minister Arun Jaitley rises to announce the Union Budget 2017.
11:02 am: Uproar in Lok Sabha as Leader of the Opposition Mallikarjun Kharge demands House to be adjourned today.
11: 01 am: The house will be adjourned tomorrow as a mark of respect for E Ahamed ji: Sumitra Mahajan in Lok Sabha
11:00 am: House paid respect to late MP MP E. Ahamed.
10:45 am: Saddened by E Ahamed ji's demise. We have to keep in mind that Budget is a constitutional obligation, will have to be presented: LS Speaker Sumitra Mahajan.
This year's budget is historic in several ways. The budget is for the first time being presented on February 1, earlier it was February end event. The government is aiming at implementing the budgetary provisions from the beginning of the financial year which is April 1.
Another historic feature of this year's budget is that instead of a separate Rail Budget presented by the Railways Minister, allocations for the railways will be presented as part of the General Budget by the Finance Minister himself.
--With ANI inputs